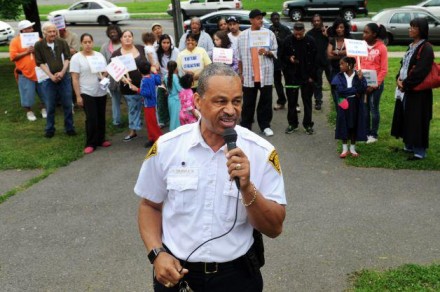 UPDATE, statement from Daniels; Retired city police officer David Daniels is synonymous with community policing. He recently retired from the police department after serving 25 years, most of it as a leader in community policing. Two years ago he had a falling out with city leadership that led to his removal as head of the Community Services Division. Daniels will be the first to tell you he's not a professional politician. He says he's not happy with the direction of the city and is contemplating a run for mayor in 2015. A Facebook page has started the process to build support.

Daniels is well-liked and respected in the city. He spent years building goodwill in his quest to bring residents, police officers and government officials together to resolve a host of law enforcement concerns. If Daniels runs, can he raise money? Raising money is a labor-intensive process that must begin this year for 'most anyone contemplating a challenge of a well-financed incumbent Bill Finch. If candidates wait until next year to raise money, that's pretty much all they will be doing instead of touching voters when it's most needed.
Daniels has been making the rounds of his contacts asking their opinion about what it would take to wage a serious mayoral run. Daniels says if he goes for it, he will make a decision within the next month or so. Daniels, who's not currently a city resident, will move back into the city if he runs.
Former Mayor John Fabrizi has announced an exploratory run for his old job.
What do you think? Should Daniels go for it?
Daniels posted this comment on Facebook:
Today there was an article published about my probable Mayoral run next year, I thought it was straight to the point and when I read the Comment section I had to smile because I knew there would some negative comments as well, I'm undaunted by them, I expect them with all the mis-information that goes along with them, First of all I'm not mad at Mayor Finch at all, we made peace at Ernie Newton's mom's funeral, If you ask him I'm sure he'd tell you that. Secondly I don't live in Bridgeport at this writing, I'm prepared and ready to move BACK….. but I'm there everyday no matter where I lived, and came to work and served the people of the City of my Birth everyday for Twenty five Plus years as a Police Officer, As a matter of fact the people that make this an issue are totally comfortable interacting with other people everyday that have power over them in many ways, shape and form that don't live there either, but they take no exception to them. I Don't expect everyone to vote for me If I decide to run, and as far as me putting my foot in my mouth, that's what happens some times when you speak your mind, some of those people had to take there feet out of their mouths to even make such a statement, I love Bridgeport … I think we all do, I'm about building bridges not tearing them down, I'm about making the city the best place it can be for everyone that lives and works there, If I'm not your cup of tea I can live with that but change is coming to Bridgeport as surely as the wind blows, and it's gonna be for the better.