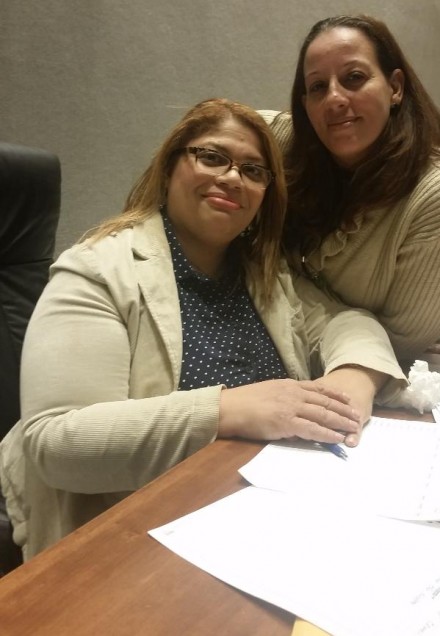 City Council President Aidee Nieves, with councilor Eneida Martinez listening nearby, announced to a crowd of roughly 100 Monday night that "we can never have any tolerance for racism or bigotry in Bridgeport city government." Her remarks drew applause on a night residents showed up for an Ordinance Committee meeting in City Hall addressing complaints about collection practices involving Water Pollution Control Authority user fees. Nieves made the remarks just prior to the meeting.

Earlier on Monday Martinez issued a statement to clarify remarks she had made at a December 27 Ordinance Committee meeting about Russell Liskov and Juda Epstein, lawyers involved in the collection process.
Nieves statement:
Clearly, the City Council needs to get to the bottom of the WPCA's procedures. For a long time low and middle income residents of Bridgeport should not end up losing their homes because they've fallen behind on their sewer bills by relatively small amounts of money.

That being said, even when moments get heated, we can never have any tolerance for racism or bigotry in Bridgeport city government. Council member Martinez has issued a public statement to express her sentiment on the statement she made. We will not be addressing that issue or make statement in the regard. This meeting is meant to find as solution for the residents of Bridgeport with service providers and city administration.
CT Post reporter Brian Lockhart shares this report about the Ordinance Committee meeting:
Attorney Juda Epstein, who helps the city collect delinquent sewer use bills–and sometimes forecloses on homeowners who cannot pay up–claimed he is not the heartless monster critics portray him to be.

"I have tremendous empathy for every single person who's in foreclosure," Epstein told the City Council's Ordinance Committee Monday. "My job is to not take anyone's home. It's to make them prioritize this debt and pay the bill."

Epstein's firm over the years has done a lot of business with City Hall and Bridgeport's Water Pollution Control Authority. And that has made him a target for a City Council that is investigating what it feels is an overly punitive sewer use bill collection process that needs to be reformed.
Full story here.