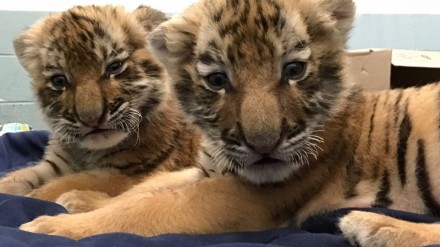 Talk about having a tiger by the tail. The newly launched tiger cub cam to cuddle up close the months-old Amur tigers birthed at Connecticut's Beardsley Zoo was so popular the zoo's site crashed Tuesday morning. Looks like it's back up and running. See tiger cub cam here and watch Reka and Zeya who've become national stars and stripes.

News release from Tony The Tiger:
A webcam installed in the Amur tiger cubs' nursery will begin streaming images in real time today, thanks to Zoo sponsor Blue Buffalo. Viewers can enjoy watching the cubs live from 8:30 a.m. to 8 p.m., seven days a week. The cubcam is set up in the nursery in the Zoo's on-site Animal Health Care Center, where they have been cared for since their birth. To view the cubs, visit the Zoo website at www.beardsleyzoo.org/tiger-cam/.

The Amur tiger cubs have received worldwide attention and national coverage since they were born, due to their endangered status and the rarity of Amur tiger births. The Zoo recently launched a fundraising campaign through The Impact Vine to raise funds for the planning and design of a renovated tiger habitat, which raised more than $5,000 in a record six days. Donations are still being accepted for enlargement and enhancements to the habitat, which can be made through a link on the cubcam page. There has been intense interest in the cubs, which has helped to raise awareness about endangered species around the world.

The survival of the two female cubs born on November 25, 2017 is cause for celebration, said Zoo Director Gregg Dancho. "From the moment when we realized that their mother, Changbai, was not responding to the needs of her offspring, it was never guaranteed that the cubs would survive," he explained. "Removing cubs for hand rearing is risky, and required extraordinary dedication from our animal care staff in feeding and monitoring them around the clock for their first few weeks."

"Accredited zoos do much more than simply display animals to visitors," Dancho explained. "Zoos like ours play a vital role in conservation, through saving species at risk of extinction in the wild. Through the generosity of Blue Buffalo we are now able to share images of the cubs with the world."

Amur tigers are a critically endangered species that is rapidly disappearing from wild areas. The cubs' survival is an important step in maintaining the genetic line of their mother, Changbai, and their father, Petya, and contributes to the genetic diversity of Amur tiger conservation worldwide. Over the last century, tiger numbers have fallen by about 95 percent, and tigers now survive in 40 percent less of the area they occupied just a decade ago. Poaching, habitat destruction and climate change have all taken a toll on the tiger population.

###

About Connecticut's Beardsley Zoo
Spend the day a world away! Connecticut's only zoo, celebrating its 95th year, features 300 animals representing primarily North and South American species. Visitors won't want to miss our Amur (Siberian) tigers and leopard, Brazilian ocelot, Mexican wolves, and Golden Lion tamarins. Other highlights include our South American rainforest with free-flight aviary, the prairie dog exhibit with "pop-up" viewing areas, the New England Farmyard with goats, cows, pigs, sheep, and other barnyard critters, plus the hoofstock trail featuring bison, pronghorn, deer, and more. Guests can grab a bite at the Peacock Café, eat in the Picnic Grove, and enjoy a ride on our colorful, indoor carousel. For more information, visit beardsleyzoo.com.