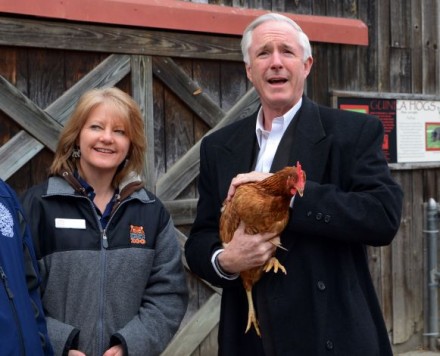 By a 3-2 vote, the City Council's Ordinance Committee on Tuesday plucked Mayor Bill Finch's proposal to permit and regulate the raising of up to six chickens. Council members Lydia Martinez and Rick Torres (who says Rick's too chicken to vote with the mayor?) voted in support of the ordinance. In general, ordinances defeated in committee will come back to the full council as a negative report for a vote, so the mayor's proposal's not totally fried.

Ordinance highlights, according to the mayor:
· People seeking to raise a small poultry flock would be required to secure a permit from the Department of Health after submitting a plot plan for the coop.
· A maximum of six chickens would be permitted. No roosters will be allowed.
· In a rental property, the person seeking to raise chickens would need written consent from the landlord and any other tenants.
· The chickens can only be raised as pets and for eggs for personal use and not for any commercial purposes.
· Anyone seeking a permit must complete a free city-sponsored seminar about how to properly and safely raise a small flock of chickens.
CT Post reporter Brian Lockhart shares more on this here.
"It's something the city does not need," said Councilwoman AmyMarie Vizzo-Paniccia, D-134, who worried the city lacked the manpower to enforce the new rules. "The city should focus on enforcing the ordinances we have before making more," she said.

Councilman Richard DeJesus, D-136, wondered about issues like what happens if an inspection finds sick chickens and the city is forced to seize and house them?