Thanks to Tom Kelly for filling in for me at the DTC endorsement session. See his report below. I'll have my own soon.
What A Fight
Hard to believe it's been 20 years since that legendary Democratic Town Committee endorsement session that featured the brawl between Mario Testa and the late Mike Rizzitelli. I had a front-row seat that night as the publisher of The Bridgeport Light, a community weekly newspaper that produced a heavy dose of neighborhood news and politics.
We had quite a staff including Associate Editor Bob Fredericks, recruited from the Post, the quickest scribe I've ever seen turn around a story, a human copy machine with the sourest disposition towards pols on the planet. And that was a good thing for me back then because I had left Mayor Tom Bucci as his administrative aide to start the paper and needed someone on staff to counter bias perception. Twenty years later Bob still loves to torment me about my political affiliations. Fine by me. Sometimes I need to be reminded.
The editor of The Light was Jim Callahan who eats and sleeps politics like I do. I used to love the exchanges between Fredericks and Callahan, but that's another story.
I asked Callahan to share some memories of that night in 1989 when Mario and Rizzi fell into his lens. It was hysterical with Town Chair John Guman fanning the flames. What emerged that night in the darkroom was photography perfection, an image of Mario and Rizzi with a headline Dukin' Dems in the next issue. In the photo below Mario's in the middle with his hand on Rizzi's nose and Rizzi's hand stuck in Mario's eye. The guy at left who appears to be enjoying it all holding his cigar is Guman. Precious.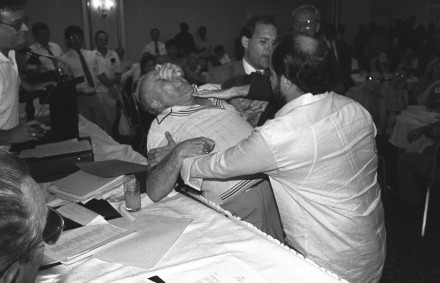 By Jim Callahan
Lennie checked in and asked for a few words on the Democratic Town Committee endorsement meeting in 1989 where a fight broke out between Mike Rizzitelli and Mario Testa.
The photograph I took was easily the best of my life for a newspaper. "Dukin' Dems" was the cover headline in The Bridgeport Light the next issue with the photo. It was a wild meeting.
Know this: I always took more pride in my reporting of a political function, trying to explain what was going on. It was that way in July 1989. I am a reporter, who half-ass understands photography.
As editor of The Light, I was looking to cover the endorsement for mayor and what was going on. Taking a photograph was almost an afterthought, although if something happened I wanted to try and catch it. I did nothing but try to make my own luck with that photo. There's no question, however, the photo stands out to many in memories of the meeting.
The meeting itself was straight-forward. Mayor Tom Bucci had blown a city budget. City finances were drowned in the harbor. The Democratic Party had splintered again. People were angry, very angry.
Democratic Chairman John D. Guman Jr. was bent on securing party endorsement for Bucci. With the party split, this was going to be tricky. The patronage resources of the party were damaged with the city budget.
There were a couple vacancies in the 133rd District committee. Mario Testa replaced the late Paul Macciocca as district leader. Mario, come hell or high water, was supporting Tommy for reelection. Committeeman Mike Rizzitelli was not. When Mario nominated committee replacements that would support Bucci, an irritated Rizzi called Mario a liar. Mario said something along the lines that he was not a liar.
Democratic Chairman Guman, cigar in hand, stage-whispered into the microphone, something along the lines: "What was that Mr. Rizzitelli? You calling Mr. Testa a liar?"
As they argued I stood up at the press table with the camera for a close vantage point. Let's settle this outside, Mario said. Rizzi didn't wait that long firing the first punch. Mario responded. The fight broke out, I pressed the shutter down and the picture was taken.
If a lot of this doesn't make sense, you have to understand the context of the times, the meeting and the personalities.
First, the budget was tanked, taxes were going up, and the city was becoming dysfunctional both administratively and politically. Crime was bad, and short-handed cops were having trouble dealing with it.
Second, the Democratic Party in Bridgeport is historically a fractured lot. Even patronage won't necessarily keep it glued together in good times. It takes a machine to keep a party together in bad times. Tom Bucci had no machine–so when things got gooey politically, they got pretty bad. Tommy had to be personally popular with voters to govern effectively. That's generally the modern way. When the budget went, political rigor mortis started to set in on Bucci.
Third, people had a chance to think about the city's problems for awhile: were they going to stick with Tom or bolt? By the time they got to the meeting, everyone was in a foul mood, no matter what their decision.
Guman tried to lighten things up by opening up the bar. There was criticism afterwards about rum-ravaged Dems. Baloney. I don't think Mario or Rizzi had a glass of wine. Most of the drinkers were grumbling over beers in the back at the bar, where they always grumbled. Guman was keeping them a little sotted. Their humor was bad; beers were not going to make it worse.
The incident was spontaneous. The reaction to it was measured. Some reaction was shocked, some was pseudo-shocked, and some guys were bending over to keep from laughing after they made sure they got a good look to see what was going on.
A lot of people tried to blame Guman. All he did was gavel the meeting. He knew the possible consequences of holding the meeting. Holding the meeting was the only blame I see, then or now. His job was to hold a meeting. He did. A fight among Dems broke out. So?
Now, did John enjoy this? Yep. Was he upset. Nope. (Tom Bucci was mortified.) Does Guman deserve partial credit/blame for whispering into the mic? Yep.
So you ask: Did John do this on purpose?
Well …
After the Mandanici machine blew up in 1981, the party fractured like never before, at least in the 20th Century. I checked. There were at least four factions with votes, along with the usual gangs of idiots who thought they had votes.
At one memorable Democratic Town Committee meeting in the early '80s, the miscreants were not in much of a mood to listen to each other, let alone come to order at the demand of the chairman.
Guman leaned into the mic that night and growled: "If I'm not going to run this party, then nobody is."
Answer your question?
(Lennie here with a footnote to Callahan's piece: the mayoral primary that emerged following the endorsement session included Bucci, Jackie Cocco, Joe Ganim, Charley Tisdale and Bob Keeley. Chris Caruso served as Ganim's campaign manager. Bucci won the primary with the anti vote split and then lost the general election to Republican Mary Moran.)
News release from Barnum Museum
The Barnum Museum receives a $20,000 grant just in time from the Fairfield County Community Foundation

(Bridgeport , CT – July 22, 2009) -The Fairfield County Community Foundation (FCCF) announced today an award of $20,000 to The Barnum Museum. The grant will be used to support the museum's general operating budget and comes right when it is needed the most to continue programming, maintain the landmark building and help support administrative and marketing expenses. The museum is an outstanding educational resource for the local community, visitors from out of town and schools who come to learn about P.T. Barnum and his nineteenth century epic in America .

"This year, many of our contributions have dropped or simply disappeared due to the challenging economic times that we are all sharing," expressed a concerned Kathy Maher, Executive Director and Curator of The Barnum Museum. "We are very grateful to FCCF for recognizing the general operating needs of the museum and our cultural colleagues, and we appreciate FCCF'strust and support by helping us continue to serve the community with enriching educational programs."

"The grant will be used to maintain current staff levels, hours of operation and to cover normal curatorial expenses for preservation of the collection. In addition, funds will enable the museum to strengthen its program capacity and broaden partnerships and our identity in the community. FCCF funds will help the museum maintain management excellence and fiscal accountability through staffing, governance and policy," continued Maher.

About Fairfield County Community Foundation: The Fairfield County Community Foundation promotes the growth of community and regional philanthropy to improve the quality of life throughout Fairfield County. Individuals, families, corporations and organizations can establish charitable funds and contribute to existing funds. The Foundation also provides philanthropic advisory services, and develops and leads initiatives to tackle critical community issues. It is in compliance with the Council on Foundations' national standards for community foundations. The Foundation has awarded over $110 million in grants to nonprofits in Fairfield County and beyond. For more information, visit www.fccfoundation.org.

About the Barnum Museum: Opened in 1893 and dedicated to the preservation and interpretation of Bridgeport's industrial and social history as well as the life and times of Phineas Taylor Barnum, showman, former mayor of Bridgeport and member of the Connecticut General Assembly. There are three floors of fascinating exhibits that illustrate the extraordinary business and personal accomplishments of P. T. Barnum, who was born July 5, 1810 in Bethel and died April 7, 1891 in Bridgeport. The museum includes period rooms; decorative arts; a 3,000 piece miniature circus; a 4,000 year old Egyptian mummy; Baby Bridgeport, Barnum's favorite pachyderm; memorabilia from the diminutive Tom Thumb; a gallery dedicated to Jenny Lind, the "Swedish Nightingale" and much more. The original museum building, designed by the architectural firm Longstaff and Hurd, is listed in the National Register of Historic Places.

For more information about The Barnum Museum, visit www.barnum-museum.org or call 203-331-1104.