Update: video of speech.
Accompanied by a brochure and video presentation, Mayor Joe Ganim on Thursday delivered the annual address to the Bridgeport Regional Business Council covering his first 100 days in office. Ganim opened his speech by jabbing BRBC chief Paul Timpanelli, thanking him for moving his table up a little bit from last year. The business community largely supported incumbent Bill Finch whom Ganim defeated in last September's Democratic primary.

Ganim's remarks at the Bridgeport Holiday Inn follow:
When I was sworn into office, I promised to tap into Bridgeport's potential and work towards a better Bridgeport for everyone. Now, 100 days into my administration, despite enormous challenges, we are on the path to a better and more sustainable future.

Upon entering office, a review of our city's budget showed a deficit of over 20 million dollars. We also inherited a police department under-manned by 100 officers, a strong need for accountability and transparency in city operations, and a great need for economic investment and jobs. Over the past three months, our administration has worked tirelessly to tackle these challenges and to put Bridgeport back on the right path. So today, I'll share with you some of the things we've done to fix the problems that we inherited, and put forward my vision to make Bridgeport a better place to live and do business.

On my first day in office, we began the process of putting our fiscal house back in order. We began by freezing spending and ordering our department heads to cut waste from their budgets. We reduced overtime costs for police, fire, and public works, without compromising services.

We eliminated unnecessary outside contractors, take-home cars, and even reduced the number of city cell phones. We re-structured some of our city departments and streamlined many areas of city government. These efforts alone have already led to operational savings of millions of dollars.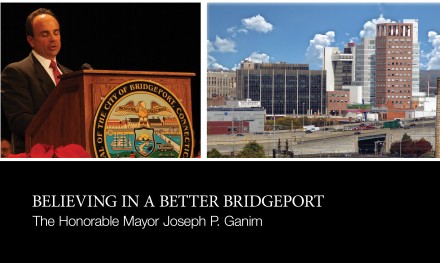 Another way that we have saved millions of dollars toward closing this budget deficit has been through the successful refinancing of some of our city's debt. To date, we have already saved the city $3.5 million dollars this fiscal year; and this refinancing will ultimately result in over 10 million dollars in savings over the next five years.

Through these and other efforts, my administration is strongly committed to putting the city's budget on the right track and eliminating this budget deficit. Doing this will send a message to our residents and others that we believe in an accountable government that works for everyone.

Speaking of accountability in government, one of the most important goals of this administration is to make our city government the most open, transparent, and accountable in Bridgeport's history. One way that we are making this happen is with an exciting new partnership with our state Comptroller to create an online platform called "Open Bridgeport." "Open Bridgeport" is an online portal that will allow everyday citizens to follow the city's finances, dollar for dollar.

Through "Open Bridgeport," all citizens will be able to examine the city's budget. Anyone can look at every line item, and find out where and how tax dollars are being spent. Through this initiative, we will provide unhindered access to our city's finances. Such access will empower citizens, increase their participation, and ultimately foster a more efficient and effective city government.

In addition to "Open Bridgeport," I have followed through on a commitment to submit a plan for an Office of Governmental Accountability to the City Council. This Office will oversee and will be directly responsible for investigating issues of waste, inefficiency, and process within city government. This office will help to ensure that "the people's" interest and access to city government is protected. I think we all agree that accountability breeds responsibility and that is what we demand from our leaders.

While we work to close this budget deficit and better organize city government, we must also invest in our infrastructure to further improve the quality of life in our city. This week we submitted our capital budget to the City Council.

It contains plans for investing 178 million dollars over the next five years in buildings, infrastructure and other public improvements. These investments include:
· $4.5 million dollars for the reconstruction of Water Street
· $3 million dollars for sidewalk repairs around the city, including a Sidewalk Renewal program aimed at helping homeowners
· $17 million dollars for the paving of roadways and bridge repairs
· millions of dollars in streetscapes
· And, plans to support the new $147 Million dollar Barnum Avenue train station.

Also, for those of you who do business downtown, you'll be happy to know that we are finally going to bring the latest technology in parking meters to Bridgeport. The capital plan also includes tens of millions of dollars for Bassick, Central, and Harding High Schools.

I want to thank the Superintendent of Schools, Fran Rabinowitz, who is here today, for her hard work and commitment in bringing these and other education-related projects to fruition. Thank you, Fran, for all you do for the children who attend our public schools.

Speaking of commitment to education in our city, I would like to recognize our centers for higher learning: Housatonic Community College, Sacred Heart University, and the University of Bridgeport. All three are flourishing with increased enrollment and capital improvements. We appreciate their continued commitment and partnerships with our public schools.

In particular, I should note the city's renewed relationship with UB, a relationship that had been strained for a long time. In working with UB, we intend to prioritize an investment of 10 million dollars to finally create a gateway to the South End. This will add to a federal grant of $50 million dollars that the city recently received for this area, which will help with economic development and job growth. This is the largest single federal grant that Bridgeport has ever received. Thank you UB President Salonen for working with the city to make these improvements.

Speaking of investments in the South End, just a few weeks ago, I stood alongside officials from PSEG after they received approval to build a new, 485 MegaWatt Natural gas power station in Bridgeport. This will replace the old coal-fired power plant in the South End. This is very exciting news for the city! This represents a $550 million dollar investment in our city–possibly the largest private investment in Bridgeport's history! Building this new plant will create hundreds of jobs and dozens more once it's up and running. With the new plant, PSEG is expected to contribute in excess of 10 million dollars in tax revenue annually. This will no doubt help fund city services and infrastructure investments that we need to make for the future. Let's welcome PSEG and thank them for their confidence in Bridgeport.

Additionally, I am happy to report that progress on our waterfront continues with our Steelpointe project. Bass Pro, Chipotle, and Starbucks have already opened their doors and have greatly exceeded expectations. These new coastline improvements will be part of the backbone of one of the most significant public promenades in the region. And this is only the beginning.

So today I'm happy to announce the next phase of the Steelpointe project, which will include not only a movie theater and hotel, but also 250 units of waterfront housing to begin construction in 2016. Let's thank the Christoph family for their confidence and continued commitment to Bridgeport.

So, in less than 100 days we've seen significant progress in closing the city's budget deficit, and improving transparency and efficiency in city government. During this time we have also received the largest single grant the city has ever received, and have joined in announcing the largest private investment in the history of our city. But we have so much more work to do.

Of course none of this is possible without ensuring the safety of our citizens and the security of our businesses. To that end, we have an aggressive strategy to make Bridgeport a safer city for our residents and anyone doing business in the Park City.

We have begun the process of rebuilding the Bridgeport Police Department. Just this week, we swore in 29 new officers. This is the first of three police classes we hope to graduate this year. This is the first step towards fulfilling my commitment to add 100 new police officers to the department in the first year.

In addition to adding these officers, part of my vision for moving the Police Department forward is to make better use of the resources that we already have. One initiative we have taken is to bolster safety on our city's streets by stepping up traffic enforcement, with a focus on cracking down on speeding and distracted drivers. Another component of this is a partnership with the Bridgeport Housing Authority to increase security at our housing projects around the city to reduce violent crime.

In charge of all this and now promoted to his new position is a man that I have the utmost confidence in as do the officers in the department. He is committed to a partnership with businesses and residents alike. Let me introduce to you publicly for the first time, our new Chief of Police, A.J. Perez. The people of Bridgeport have faith in his abilities and leadership to make Bridgeport a safer place for all.

Finally, as we have in the past, I'd like to partner with you for the future. I believe together we can make a tremendous difference in the quality of life for so many residents. As our city goes through what I will call our next renaissance, our "Second Chance," I'd like to provide that same opportunity for every individual who calls Bridgeport home.

This would be a partnership with you, the City and the Workplace to launch the "Model Second Chance Initiative" for Bridgeport residents. The city and the Workplace will do their part, but for real job opportunities and a true "Second Chance," we need businesses in the private sector to step up and lend a helping hand.

Paul, your organization has an opportunity to make a significant contribution to this initiative. Joe Carbone and the City of Bridgeport ask for your help, partnership and cooperation. Let me thank you, Paul, and Bridgeport business leaders for always stepping up to support a worthy cause.

Despite extraordinary challenges, my administration is looking towards a brighter future for the city that we all love. The road that lies ahead will not be without turns, impediments, and challenges.

However, I know and believe that my administration will work tirelessly to help the people and businesses of Bridgeport succeed. Together, with your continued support and cooperation, we will build a better and more sustainable future for Bridgeport