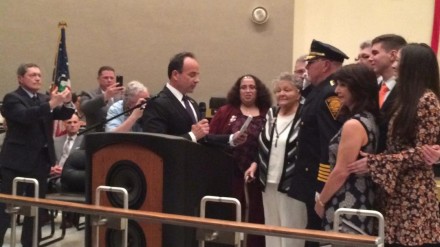 Captain Armando Perez, better known as AJ, is now Acting Police Chief Perez. Mayor Joe Ganim Thursday night in a packed City Council Chambers issued the oath of office to his friend who supported him during good times, bad times and now redemption times. The search for a permanent chief could take upwards of a year, if not longer if Ganim has his way, and Perez will certainly be in the mix for the job.

This is new territory for the genial Perez who's well-liked among rank and file officers. Now he becomes the face of the department and the citywide responsibility for dealing with an assortment of issues, from internal personnel to external neighborhood demands in an understaffed agency.
According to the City Charter, following a police chief vacancy (via the resignation of Joe Gaudett for a consulting job within the department), Civil Service Personnel Director David Dunn has 150 days to conduct a test for a permanent chief that could include a written examination or simply oral interviews before a search committee that in the past has been selected by the mayor. A private firm could be brought in to vet and conduct background checks on candidates. The search committee would narrow choices to three finalists. The mayor would appoint a chief from the top three to a five-year term with an option to appoint for another five years. A chief, based on a charter change approved by voters more than 25 years ago, cannot serve for more than 10 years.