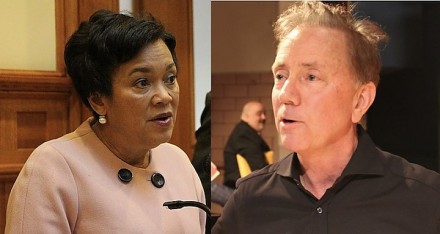 Weeks from the state party convention, high-profile Democrats are pushing to coalesce behind Greenwich entrepreneur Ned Lamont for governor. New Haven Mayor Toni Harp on Thursday announced her support for Lamont. Mayor Joe Ganim had been courting her for months. Ganim has opened a campaign office in New Haven, adding to offices in Bridgeport, Hartford and Waterbury.

Ganim needs 15 percent delegate support at the convention to qualify for the August primary ballot. He is also waging a petition drive as a backup plan if the delegate convention support does not materialize. Lamont is now piling up enough support as the favorite to win the party endorsement. Former Connecticut Secretary of the State Susan Bysiewicz is also eyeing an August primary. New Haven and Bridgeport sport the largest convention delegations.
Paul Bass from the New Haven Independent has more on this:
Ned Lamont has snagged a prize in his quest to win the Democratic nomination for governor: the endorsement of New Haven Mayor Toni Harp.

Harp, in return, has snagged an ally in her quest to expand airport service in New Haven.

Lamont and Harp are scheduled to announce the endorsement at a press conference at Tweed-New Haven Thursday at 2:30 p.m., according to multiple people connected to the event.

Lamont and other Democrats vying for the nomination to succeed retiring Gov. Dannel P. Malloy have been courting Harp's support, including seeking to convince her to run as their lieutenant governor candidate. (As of Wednesday night, Harp was standing steadfast in her position that she has no interest in the post; some of her supporters have been urging her to take the plunge.)

The endorsement comes one day after Emily's List, the DC-based political action committee that supports female candidates, endorsed Lamont opponent Susan Bysiewicz for the Connecticut governor's race. So the timing of Harp's endorsement serves in part as a response: Harp is New Haven's first-ever female mayor. She was just featured in an Essence magazine feature declaring 2018 "The Year Of The Black Woman Mayor." (Harp also just completed a term as president of the national African-American Mayors Association.)

Thursday's endorsement also brings Lamont the support of the leading elected official in a city that will send the most delegates (100, including super-delegates) to the May 18-19 state Democratic Party convention. Harp's endorsement does not mean Lamont gets all 100 of those votes for the party endorsement; Bridgeport Mayor Joe Ganim, for instance, has been winning some New Haven support for his Democratic gubernatorial quest.
Full story here.
News release from Lamont:
"For months I've said I'll support the candidate I believe will be the best Governor for all Connecticut cities, and that candidate is Ned Lamont," said Mayor Harp. Ned Lamont understands that the cities in this state need infrastructure investment to spur economic development, and he understands the state budget must consistently support our cities. Ned's unique experience as a businessman and local leader, coupled with his track record as a progressive make him the right leader for our state."

"I am honored to earn Toni Harp's endorsement and proud to have her standing with me today," Lamont said. "From her tireless service in the legislature to her leadership in New Haven, Mayor Harp is a real change maker who puts the people of New Haven and Connecticut first."

Lamont continued, "Mayor Harp is a leader on the pressing issues that all of our cities face today. She has prioritized keeping all of her citizens safe by protecting New Haven's status as a sanctuary city. She is a force of good on public education. She has made tough decisions and lead serious fiscal reforms. Mayor Harp will be a critical partner as we build the grassroots movement that will bring opportunity and growth to our cities."

"Our cities face significant challenges, but they are also the heartbeat of hope for our future. As Governor I will be a partner to all of our Mayors and local leaders."

In endorsing Lamont, Harp joins Attorney General George Jepsen, Commissioner Jonathan Harris, East Hartford Mayor Marcia Leclerc, Milford Mayor Ben Blake, Woodbridge First Selectwoman Beth Heller, Bridgewater First Selectman Curtis Read, State Rep. Sean Scanlon, State Rep. Mike DiMassa, State Rep. Michelle Cook, New Britain City Council President Eva Magnuszewski, Waterbury Board of Education Chair and former State Rep. Liz Brown, Woodbridge First Selectwoman Ellen Scalettar and Fairfield DTC Chair Steve Sheinberg.

Ned Lamont has leveraged his lifelong experience in the academic and business worlds to create jobs in Connecticut. For the past decade Ned has been training the next generation of entrepreneurs as a professor at Central Connecticut State University. Ned Lamont became a well-known figure in Connecticut politics when he challenged Joe Lieberman in the Democratic primary in 2006 over the Iraq War. In 2008 he was the Chair of the Obama campaign and helping him win the support of Connecticut Democrats. In 2010 he challenged Dan Malloy in the primary for the nomination for Governor, saying that if real political courage wasn't shown Connecticut would find itself in an economic crisis ten years later.