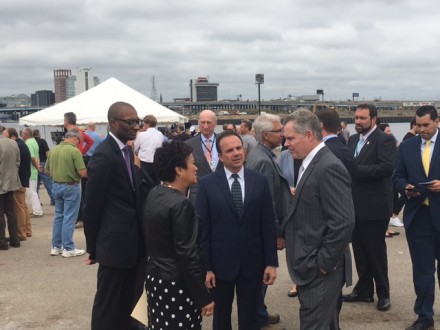 While Governor Dan Malloy continues to wire development deals to Stamford where he once served as mayor, Mayor Joe Ganim and New Haven Mayor Toni Harp have partnered on several fronts to bolster jobs and development. As the New Haven Independent's Paul Bass reports they joined forces on a casino proposal and youth summer hoops tournament. Now they're teaming on the Amazon HQ2 sweepstakes.

Ganim, in an exploratory stage for governor, has made New Haven a magnet for his political ambition with Harp and Ganim leveraging a symbiotic relationship on behalf of Connecticut's two largest cities. The New Haven Independent has coined a campaign: BridgeHaven.
And, of course, it's a natural question to ask: a Ganim-Harp gubernatorial ticket? Wouldn't Joe love that.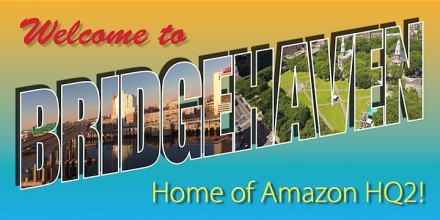 From Paul Bass:
The mayors of New Haven and Bridgeport–until now two parallel urban universes 21 miles apart–have decided it makes sense to do business together in order for both of Connecticut's two largest cities to grow. And they're making it a habit.

"I don't think that we've seen it previously. … You haven't seen New Haven and Bridgeport working together," New Haven's Toni Harp said during her latest appearance on WNHH radio's "Mayor Monday" program. "As more and more of these proposals come up, they're looking for a place where there are more people. We begin to look at our neighbors and say, 'Who can we work with?'"

"I've never had a problem with [Bridgeport Mayor] Joe Ganim. We always worked together on 'urban policy issues' when I was in the State Senate. He's been easy to work with. And so am I," Harp said.

Call it a marriage of mutual economic self-interest at a time when the state's fiscal tap is running dry.

"I admire Mayor Harp and am excited about working with her and the City of New Haven," Ganim said. He said the casino and Amazon opportunities brought the two administrations together in the quest for "billions of investment and thousands of jobs."

He called Bridgeport and New Haven "just minutes away." "The benefits of each city, for jobs and tax base growth as well as for the region and the state, are magnified and become massive when you combine the attributes.
See full story here.