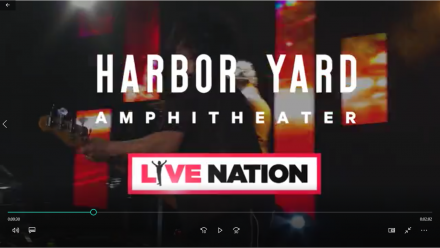 Music vendors, suppliers and regional businesses like ClaireVoire, on Monday night at a City Council public hearing, voiced support to transform the Ballpark at Harbor Yard into a warm-weather, $15 million, 6,000-seat concert amphitheater managed by Live Nation and sports entertainment entrepreneur Howard Saffan.

University of Bridgeport Vice President George Estrada kicked off the public hearing declaring "Now we have an opportunity to bring concerts during that spring-summer season and I believe this will re-energize the Downtown and South End. It will be exciting to see life injected with out-of-towners supporting businesses into the Downtown … Pedestrians bringing life to the sidewalks and the sound of music in the air."
Kristin Okesson, general manager for Connoisseur Media that owns regional radio stations such as STAR 99 and WPLR, said "These guys do what they say they will do," referencing Saffan and Jim Koplik, the decades-long concert promoter of Live Nation. "Bridgeport will be a great stop for artists between New York and Boston."
Terry O'Connor, executive director of the Bridgeport Diocese-led Cardinal Shehan Center located Downtown, stressed four points: jobs, economic impact, tickets to share with needy nonprofits and Saffan's track record for community involvement.
A steady stream of local and regional merchants also spoke including Nino Falconieri who has carried on the Bridgeport painting business started by his immigrant father. "He'll be good for local vendors," referencing Saffan who had served as president of the adjacent Webster Bank Arena for many years.
Jay Piccirillo, owner of Micalizzi's Italian Ice on Madison Avenue, said "This is like a kid waiting for Santa Claus to come." Be it ice cream, pizza, beer, Saffan promises to utilize local vendors.
Brandon Hall, founder of Forstone Capitol, one of the city's largest Downtown property owners including new apartments and soon-to-come German beer hall and comedy club across from McLevy Green on State Street, proclaimed "This amphitheater is a game changing project."
Former City Councilman Bob Halstead urged cut-rate prices for city residents as was done by the former summer music festival the Gathering of the Vibes at Seaside Park.
Among the mostly positive speakers, two sobering voices stepped up Ernie Newton, looking to reclaim the City Council seat that launched his political career, and Board of Education member Maria Pereira, also the 138th Democratic Town Committee leader.
Newton emphasized the need to make sure the language in the contract between the city and developers is strong for local hires.
Pereira, a staunch proponent of funding city schools, wondered why the city will allocate $7.5 million to upgrade the venue when it shortchanges the school system.
City officials say the Saffan/Live Nation partnership called Harbor Yard Amphitheater LLC will split the renovation costs with the city. The city will finance its end from a capital development fund. City officials say the renovation split for taxpayers is a fraction of what it would cost to have renovated the 20-year-old ballpark.
Following a request for proposals Mayor Joe Ganim selected the amphitheater pitch over a renewed submission by the Bridgeport Bluefish baseball team that played at Harbor Yard for 20 years. The Bluefish will play its 2018 season totally on the road in the Atlantic League in anticipation of a new home in North Carolina for the 2019 season. City officials say the ballpark needed upgrades comparable in price to what the concert venue will cost.
City officials stressed that the amphitheater proposal brings a stronger economic impact to the city in terms of jobs, payments to the city and overflow to local vendors and restaurants. The contract guarantees the city $150,000 annually in rent, but with a projected take on ticket sales estimated at roughly $450,000.
The contract goes to the full council for approval at its Nov. 6 meeting. If approved, the projected venue opening is spring 2019.