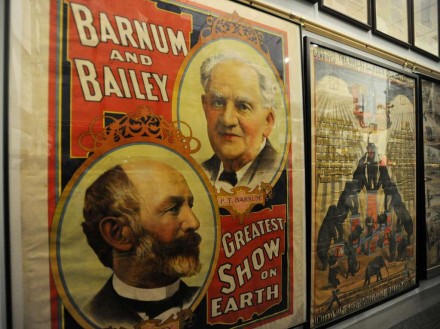 People think the final performance of Mr. Barnum's circus will take place on Sunday in Uniondale, New York. Do not despair circus fans, it will not die, it has simply relocated into the White House. Hmmm, what would P.T. say about that?

Ah, to paraphrase the master, I don't care what they say about me as long as they say something. CT Post editorial page editor Michael Daly pays tribute to the single greatest contributor to Bridgeport history. Check out his video interview with Barnum Museum Executive Director Kathy Maher here.
Mr. Barnum lives on in so many ways.
If Bridgeport had a tattoo, it would be the letters "PT" enshrined in a heart on a muscular shoulder.

Though best known, perhaps, for the sheer spectacle of his circus–the freaks, menageries, mummies, elephants, human cannonballs, dwarfs and sword swallowers–it was the P.T. Barnum of the unstoppable comeback that the city of Bridgeport threw in with in 1948, when the Barnum Festival, the extravaganza dedicated to his memory, was created.

Fully 140 years before Bridgeport re-elected a recovering felon as its mayor, this immigrant city had embraced the charismatic showman, the quintessential comeback story of Phineas Taylor Barnum, and elected him mayor in 1875. His fingerprints are all over the city–and his spirit in its DNA.

The circus, for which P.T. Barnum is most widely known, the Ringling Brothers and Barnum & Bailey, will soon take its rightful place in Americana history: Its final performance is set for 7 p.m. Sunday in Uniondale, New York.

But the Barnum capacity for reinvention lives on in town.

"Bridgeport … where the circus never left town," the late Bridgeport Telegram writer and bon vivant, James G. Clark wrote.

Kathy Maher, director of the Barnum Museum, the red sandstone confection Barnum ordered built in his will, is the keeper of the torch.

"It wasn't just the great achievements that defined his brand," she said, "it was all those hard knocks, going broke on the East Side development of Bridgeport, the fires that destroyed his museums.

"Yeah, everybody knows about the circus, but they don't know the circus was the result of catastrophic loss in his life," she said.
Full story here.