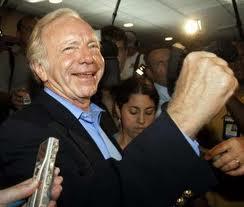 There was a time Joe Lieberman was the guy you wanted your candidate for public office around. A photo opp, endorsement, handshake and quote box for a mailer. He was sensible, independent-minded, thoughtful, not a whack-job liberal Dem. He was our state attorney general who knocked off incumbent Republican U.S. Senator Lowell Weicker in 1988, then lectured President Clinton for his salacious behavior in the late 1990s leading to Joe's selection as the Democratic nominee for vice president. It helped immunize Al Gore from Clinton attacks.

Gore won the popular vote for president, but lost the electoral college count to Republican George Bush in 2000. Lieberman did not resonate as a Democratic candidate for president in 2004, embraced a decidedly hawkish position on the war in a Iraq, a country that did not attack the United States, but nevertheless received the credit. Greenwich businessman Ned Lamont lanced Lieberman in a 2006 primary. But lo and behold fightin' Joe became the de facto Republican in the general election and kept his seat.
John McCain wanted Lieberman as his 2008 presidential running mate. Joe had taken a turn right, but not hard enough for the most conservative members of the Republican party who promised a convention revolt if Lieberman were chosen. Instead, McCain chose Alaska Governor Sarah Palin. Remember her? How could we forget?
Lieberman did not seek reelection in 2012. Now comes word that Joe, at age 75, is at the top of the list for Donald Trump's selection as FBI chief. How do you imagine Joe as a the nation's top dick?
Hartford Courant columnist Colin McEnroe, also a WNPR host writes:
No. No. No. No. No.

No!

I'm referring of course to the idea that Joe Lieberman could become FBI director.

The best way to finish this column would be the repetition of the word "No" 675 more times, but I'm assuming the editors would kick it back to me.

There is a small list of things that could cause me to move to France: (1) Joe Scarborough gets elected governor of Connecticut. (2) Joe Scarborough gets elected anything. (3) Chelsea Clinton gets elected to Congress. (4) Joe Lieberman resumes Liebermanizing in the public sphere.

… Gail Collins, by the way, is a New York Times columnist and friend of mine. We have both been working for years on a Grand Unified Theory stating that everything that has gone wrong in America since 2000 is ultimately traceable to Joe Lieberman. We're a little hazy on the climate change piece, but it's possible that the glare from his vanity and ambition may be melting the ice caps.

If he becomes FBI director, we will both be locked up. All I can say is: No! No no no no. No.
Full article here.