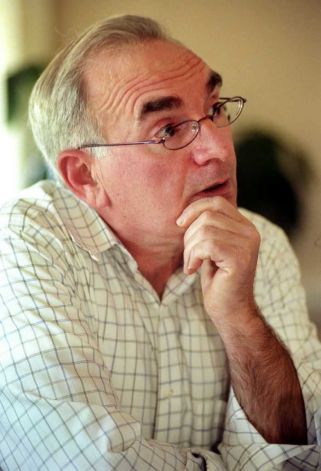 Kooky things can happen at political conventions. Republicans will gather Friday at the Hartford Convention Center to endorse candidates for U.S. Senate and House of Representatives. It appears Linda McMahon will come out with the endorsement for U.S. Senate and former Congressman Chris Shays, a Bridgeport resident, will wage a primary. Democratic Town Chair Mario Testa will have a busy Monday and Tuesday as a bunch of candidates position for the endorsement of several local city and state races including the featured event Monday night at Mario's restaurant, the State Senate endorsement battle between incumbent Ed Gomes, former State Senator Ernie Newton and State Rep. Andres Ayala. Lots of maneuvering going on. This is a good time to reminisce about the afternoon in 1994, the day Mario drilled the state Democratic Party bosses.

In 1994 Joe Ganim, in his second term as mayor, was a candidate for governor. Joe got into the race after Governor Lowell Weicker, who had helped bail out the city from fiscal hell, decided not to seek reelection. The campaign was cash rich and delegate poor so when making the ballot wasn't in the cards for Joe (you could not petition your way on back then), Joe backed out of the race one week before the Democratic convention throwing his support behind likely endorsed candidate State Senate leader John Larson (today Congressman Larson) with the hope he'd select Joe as his running mate.
During the Democratic convention in Hartford, as Larson's boys including Senate Majority Leader William DiBella pondered selection of the second slot, a contingent of Connecticut mayors who wanted one of their own on the ticket adjourned to a watering hole in the Hartford Civic Center, among them Hartford Mayor Mike Peters and Waterbury Mayor Ed Bergin as well as Mario and Ganim.
Mayor Mike and Mayor Ed were lubing up the joint. They were feeling pretty good. Finally the call came. Larson had made his decision. They all squeezed into a conference room while delegates in the civic center convention hall waited for an answer.
Larson, facing dozens of Democratic big shots, announced, "I think it's time to embrace Rich Balducci," he told the crowd. Balducci, a long-time legislator, had also been a candidate for governor. Emerging from a back room thumping his chest, Balducci announced, "I want everyone to know that I'll be running as an independent lieutenant governor," suggesting he'd take the second slot but he'd not be breaking his ass for the ticket. Balducci had also given his word to State Comptroller Bill Curry, the other Dem guber candidate in the race, that he would not work against him.
The place was in stunned silence. This is the person Larson chose? Bridgeport Democratic Town Chair Mario Testa would have none of it. The little man with big ones edged closer to Balducci. "Wait a minute, Mr. Balducci," drawing out his name, "are you telling us you're not going to support Larson?"
Balducci stammered on his words. In a flash there was chaos.
"What the fuck is going on around here!" Mayor Peters screamed.
"Yeah, what the fuck is this!" Mayor Bergin yelled.
Peters walked up to Larson and declared: "We're going to settle this right now."
Peters, Bergin and New Haven Mayor John DeStefano circled with Ganim. "Joe," Peters asked, "do you want to be lieutenant governor?"
Joe nodded yes.
"That settles it," Bergin chimed in.
The mayors walked up to Larson and said "Enough of this horseshit, Joe's gonna be the candidate." So it was done. That's how 34-year-old Joe Ganim became the candidate for lieutenant governor in 1994. It didn't work out. Larson lost the primary to Bill Curry and Curry lost the general election (with Joe as his running mate) to John Rowland.
For Mario, however, that afternoon in the cramped room was political bliss. So the next time you're in Mario's restaurant, ask him about the 1994 gubernatorial convention and he will crack a Kermit smile.