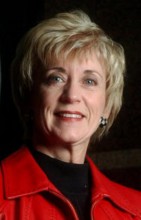 Linda McMahon Friday night won the Republican endorsement for U.S. Senate defeating her closest rival Chris Shays of Bridgeport by a nearly two-to-one margin at the party convention in Hartford. Shays, the former Congressman, announced he will wage a primary on Aug. 14. The results come one week after Democrats endorsed Congressman Chris Murphy. Former Secretary of the State Susan Bysiewicz will primary Murphy for the seat of a retiring Joe Lieberman. The respective party winners will face each other in the November general election. McMahon convention speech:

Good evening fellow Connecticut Republicans, and thank you very much.

I am honored and grateful for your support tonight.

I want to thank my family who are here behind me, and my incredible campaign staff and volunteers.

It's late, and I don't want to keep you very long.

All of the candidates vying with me for the nomination this evening are leaders with great ability who love our state and this country, but now is the time to unite and make our case to all Connecticut voters that we offer a better path to prosperity than what the professional politicians are offering.

And I am confident we will emerge united and defeat Chris Murphy in November. I am very mindful of the great responsibility we have before us. The stakes of this election in Connecticut and nationwide couldn't be higher.

We cannot allow the failed economic policies of professional politicians to continue one day longer.

America's economy isn't working because Americans are not working. And we can't keep sending the same people back to Washington who created this mess, and now expect them to fix it.

The people of Connecticut want leaders who will make tough choices. Leaders who will make Washington stop spending more than it makes.

Ronald Reagan said, "When a business or an individual spends more than it makes, it goes bankrupt. When government does it, it sends you the bill."

I understand what it's like to live through tough economic times. When I was born my family lived in low-income housing. The day before my husband and I graduated from college, I found out I was pregnant.

We had no insurance, no money and no job. Today we have achieved incredible success, but there was a time where we declared bankruptcy and had to start over.

We learned hard lessons, but we had the opportunity to get back on our feet.

I'm a grandmother, and I'm afraid those same opportunities will not be available for our grandchildren and that's why I am running for the United States Senate.

I have lived the American Dream, and I am determined to preserve America's promise for opportunity for those next generations.

But, what about my opponent? Chris Murphy has built his career in and around politics. He is a creature of Washington, and I am not. He knows well how to spend and tax … and tax … and spend.

The result: an 80% increase or 7 trillion dollars in the national debt, just during his tenure in Congress.

You have nominated the right candidate this evening because Connecticut voters will have a clear choice in November. The choice between a proven job creator or a tax and spend career politician who believes Washington has all of the answers.

But we must work together now to ensure victory in the fall. We are building the best grassroots army the state has ever seen and that army of supporters will not work just for my election, but also for all of our party's candidates.

My plan can be summed up in 4 words: WE WILL DO BETTER.

When people hear our message on how to turn the economy around, lower taxes, decrease spending and put our people back to work, we will win.

So I'm asking you to help me in fighting for more liberty and less government. Fight to stop the overspending in Washington.

Fight for the hope of every person in Connecticut that their children and grandchildren will have a better life and better opportunities than they had.

Tonight, we have taken the first step. You stood with me.

But I'm asking each one of you to continue to stand with me all the way to November to defeat Chris Murphy, and to stand with our party here in Connecticut and across this country.

Together we can and will be victorious and we will preserve the American promise of opportunity!