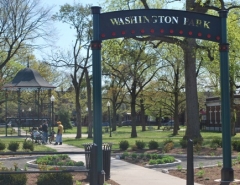 UPDATE: From Mayor Finch
The sounds of salsa filled the air at Washington Park today as Mayor Bill Finch joined hundreds of East Side residents to kick off a citywide, summer-long celebration of the City's parks and green spaces dubbed "Park City Celebration."


"Our parks are the backbone of the City, and they're the reason for our nickname–Park City. For the past two years, we've been cleaning up, sprucing up and enhancing our parks," said Mayor Finch. "These green spaces are treasures that belong to all of us."

Mayor Finch was joined by City Council representatives Lydia Martinez, Manuel Ayala and John Olson, State Sen. Andres Ayala, and Director of Public Facilities Charles Carroll in cutting the ribbon at the newly installed splash pad.

Washington Park, which was created by P.T. Barnum in 1851, has undergone extensive renovations during the past 18 months since the 2010 tornado uprooted dozens of trees and damaged the park's iconic gazebo. Nearly $300,000 in state funding has been spent to repair and paint the historic gazebo, install a rose garden and entryway on the Noble Avenue side of the park, install a splash pad, upgrade the bathroom facilities and renovate the basketball courts.

Seven other events are planned throughout June, July and August at City parks including the new Knowlton Park, St. Mary's by the Sea, McLevy Green, Seaside Park, Newfield Park, Veterans/Puglio Park, and Bearsdley Park.

Saturday's celebration included a Wiffleball clinic staffed by City Parks and Recreation staff, a basketball mini-tourney, refreshments and music provided by Orquesta Afinke, a Bridgeport-based Latin band.

"Park City Celebration will highlight the work we've done to upgrade and enhance our parks, and it's my hope that by inviting everyone in the City to take part that we can encourage residents to take pride in their parks and their neighborhoods," said Mayor Finch. During the past 18 months, the City has installed new lighting in several parks, planted hundreds of trees and beach grass, constructed splash pads, repaired or replaced sidewalks and roadways in Seaside Park damaged in coastal storms, constructed pavilions and barbecue sheds as part of the Mayor's Bridgeport@Work initiative.

Part of the City's waterfront recapture initiative, the new Knowlton Park bordering the Pequonnock River was begun in spring 2011 using acreage donated to the City by the owners of the former Acme Shear Co., located across the street. The completion of Phase 1 of the new Knowlton Street Park will be celebrated during an event on June 9 at 12 noon, which will coincide with the monthly Bridgeport Bazaar and General Market sponsored by Gallery 305K. Knowlton Park comprises five acres.

The City of Bridgeport is home to 46 parks–the largest is Seaside Park at 325 acres, which, along with Beardsley Park, was designed by famed landscape architect Frederick Law Olmsted.

Park City Celebration continues with the following events:

Knowlton Park, June 9 at 12 Noon – Ribbon cutting for Phase 1; Bridgeport Bazaar and General Market

St. Mary's by the Sea, June 24, 11 a.m. – 1 p.m. – activities to be announced

McLevy Green, July 7, 10 a.m. to 10 p.m. – 3rd Annual Bridgeport Arts Fest

Seaside Park, July 12, 9 a.m. to 11 a.m. – Senior Walk and Fitness Classes

Newfield Park, July 28, 10 a.m. to 2 p.m. – Fishing Derby, Fish Fry, Horseshoe Tourney and Cricket

Veterans/Puglio Park, Aug. 11, 10 a.m. to 12 noon – Disc Golf tournament/workshop

Beardsley Park, Aug. 18, 11 a.m. to 2 p.m. – Softball tourney and relay races

More information about "Park City Celebration" can be found by logging on to www.parkcitycelebration.com.