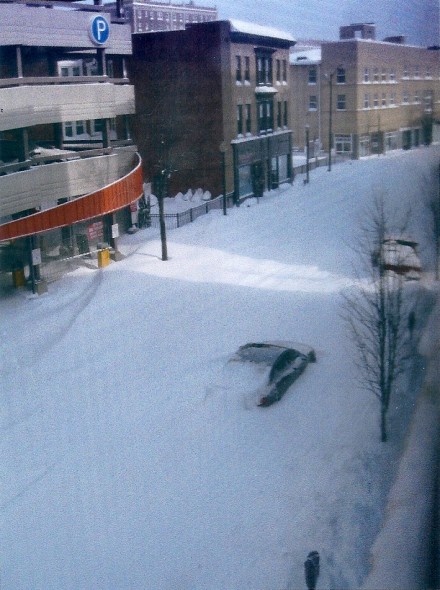 Ah, 60 degree weather in mid November and who's thinking about snow? Public Facilities Director John Ricci. He realizes, with a reminder from his boss Mayor Joe Ganim, you're really only as good as your last snow removal. So Ricci has noodled a new clearance strategy that adds fire to the ice.

Snow removal is a weary-eyed, labor intensive process, especially in restricted urban areas. Rather than sending public works crews home after long hours (or loading up on a pot of coffee at local diners), Ricci will utilize city firehouses as safe havens for his crews, rest up and recharge to head back to the plows and streets and a game plan to make roads passable. Ricci came up with the plan with assistance from Public Facilities Manager Craig Nadrizny and Joe Tiago, whom Ricci recently elevated as Public Facilities deputy director.
Public Facilities is arguably the most demanding department head position, a super agency that includes sanitation, recycling, leaf pickup, maintenance of city buildings, parks, roads, bridges and the airport. If municipal elections took place in the winter/spring would any mayor be reelected? Remember Jane Byrne's campaign in Chicago?
The February 2013 storm was a beast for then-Mayor Bill Finch that Ganim leveraged in the 2015 primary campaign. Citizens were captive in their homes for days. Park Avenue, a major thoroughfare, impassable for days as well. Downtown a disaster zone.
Finch, exasperated, tried to put on the best face as ear-splitting complaints filled up phone lines and media outlets while he explained the frustrating cleanup response to the avalanche-like blast of snow, citing the "yahoos" who did not heed his warnings to stay off the roads. Some of those "yahoos" were folks already on the road before his warning and dedicated first responders trying to make it to work. They were trapped by the snow and forced to abandoned their vehicles. Team Finch heard the lungs of citizens at a jammed City Council chambers. Charlie Carroll, the Public Facilities director, eventually became a casualty demoted by Finch.
That was a mid-term for Finch who was not lanced by voters until two years later, but it was an election year for the City Council. Every Democratic-endorsed council member was buried in a blizzard of negative primary votes that September. But Finch's yahoo factor played out in the 2015 race. Ganim reminded voters.
Last year, the first winter of Ganim's comeback, was mild. Ricci's not taking any chances.
He's firing up firehouses to maximize snow removal operations.