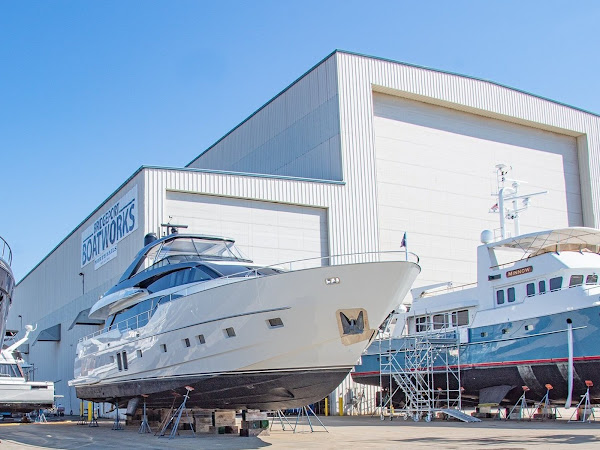 Across the Steelpointe Harbor redevelopment area, Bridgeport Boatworks offers a range of services including a fleet of marine travel lifts equipped to handle some of the largest vessels on the East Coast.
The developer that owns both properties Robert Christoph Jr. has worked with Boatworks officials to land a $10.5 grant from the federal Department of Transportation as a center for an offshore wind energy project.
CT Post reporter Brian Lockhart has more:
With an infusion of $10.5 million in federal dollars, the city and a private company on the harbor are aiming to make Bridgeport a hub for future offshore wind energy projects.

But the direct beneficiary of that federal aid is not Avangrid's previously ballyhooed Park City Wind project, but instead local shipyard operator Bridgeport Boatworks.

This week members of Connecticut's congressional delegation announced $17 million for improvements to Bridgeport's and New London's ports. According to the notice of grant award from the U.S. Department of Transportation, $10.5 million is headed to the Bridgeport Port Authority to design and build an "operations maintenance and wind port" that involves harbor dredging, the installation of bulkheads, a floating service dock and pads for cranes.

The grant award document made no mention of a specific site, but the congressional delegation's press release named Bridgeport Boatworks along Seaview Avenue.

… "This investment in Bridgeport's port infrastructure will help create hundreds of jobs in our region and generate millions in direct economic benefits," said Robert Christoph Jr., the developer who owns the acreage where Boatworks is located. "This transformative grant award will help continue to unlock Bridgeport Harbor's enormous untapped potential to serve as an economic hub for the region and the State of Connecticut."
Full story here.