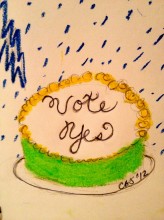 Cathy Simpson chaired the Charter Revision Commission that conducted numerous working sessions over several months en route to crafting a ballot question that city voters rejected on Tuesday following contentious debate to decide the selection of school board members. She shares her observations about the process and result below:

Someone left the cake out in the rain
I don't think that I can take it
'Cause it took so long to bake it

If you want to make enemies, try serving on a Board or Commission in your town or city. People fear or loathe reform, even in areas which scream for reform, such as the public education system in Bridgeport. The city's public school system is one of the worst in the State of Connecticut. The evidence shows most students are performing one grade level or more below acceptable standards. The children in city schools are disenfranchised especially as compared to children who live a stone's throw away in Fairfield or Trumbull; hopes are quelled and lives are ruined due to a failing education system.

It is easy to get apathetic or just complain about a dysfunctional system from afar, but if you want to effectuate change, you have to take action. So chairing the Commission on Charter Revision gave me the opportunity to contribute to a very worthy cause of helping city students as well as modernizing sections of an outdated charter. Our commission met twice sometimes three times a week over the course of a four-month period. We held more public hearings than required and were able to have experts as well as educators and children on both sides of the issue of mayoral appointed boards present at our fact-findings. We ultimately decided after many hours of study and listening to presenters at public hearings and fact-findings that a mayoral appointed board was the city's best chance to help children and the community. (No need to get into all of our hard work here; for fact-checkers it is all on the record–complete transparency, including transcripts of our minutes.)

On Tuesday, when the charter revision effort was defeated, it obviously was heartbreaking for so many of us who had worked so hard for making a change. I have to commend the grass-roots efforts of those opposed and was very surprised in addition to being very disappointed in the outcome. I started to rationalize the results in my head and then learned about Donald Trump's crazy rants on twitter (which he eventually deleted) after he learned about President Obama's win. I certainly do not want to be like Donald Trump, a sore loser, and decided to leave my pity party featuring MacArthur Park on the playlist to instead jot down my reflections about the process.

Unlike the recipe for the cake left out in the rain in MacArthur Park, the recipe for positive change is readily available. Notably, the revised charter did not pass but the document is still there for future commissions. Even if a future commission opts leave education reform out of the mix, there are so many other revisions, such as more accountability for elected officials and the user-friendly revisions are worth salvaging.

Although the opposition to a mayoral elected board won the battle on November 6, 2012, the war against substandard schools for city children has yet to be won. Some elected school boards, like those in the suburbs are highly functional. This is not the case in Bridgeport as evidenced by eyewitness reports, which were not refuted, of some members engaging in "guerrilla warfare" against the past superintendent and other obstructionist behavior. There is a perception which is not unfounded that some of the members of Bridgeport's elected board have acted like "… wannabe mayors immobilizing the school system with their petty squabbles, power grabs and turf protecting." (Finn and Keegan.) The elected board will not succeed unless members of the board see the need for change and are willing to take bold, positive steps to institute reforms, keeping the students as the number-one priority.

After winning, one of the leaders of the opposition when interviewed on her win by a local news station, referred to the question on the ballot as means to trick people so that "they" could take away the people's right to vote. This reckless comment is akin to Donald Trump's tweets calling for a "revolution" and referring to the election as "a total sham and travesty." I wondered who left her cake out in the rain? She won! Why not be gracious and support working together as the President did after he won the election?

Irresponsible comments such as painting those in favor of charter revision as tricksters is absurd, especially as anyone who wanted to could easily access a copy of the proposed charter as well as the entire record of the process. Such comments are only meant to divide people rather than inspire people to work together. I hope the members of the current board are not of the mind to throw away the recipe for positive change by perpetuating such nonsense.

I acknowledge that giving up the right to vote for the board of education is considered by many to be an affront to the democratic public participation in school governance. I was naive to think that citizens would embrace the position that with a mayoral appointed board, you can vote out a mayor if schools fails. In my view, this strengthens the process as voter turnout for Board of Education is very low. Clearly, the majority of voters did not agree, but this begs the question as why so many turned out to vote against the charter and yet fail to participate in Board of Education elections. Based on voter turnout statistics, thousands of people came out for the presidential election, voted on the question, but did not vote in September for the Board of Education. I am hoping residents now that they have voted to keep their right to participate in elections for Board of Education in the future will turn out in droves as they do for presidential elections. In terms of qualifications of candidates for the Board of Education, town committees should attempt to find the best qualified candidates to run and support those candidates as they would for a mayoral seat. It is that important.

Whether you agree with the initiative for education reform does not change the fact that something drastic has to be done to stop the lunacy and dysfunction which has been perpetuating for years throughout the Bridgeport public school system. The Board of Education based on the election results is solely accountable now for the future of our schools and should keep in mind that a significant amount of Bridgeport citizens voted yes for change. I hope the Bridgeport Board of Education will not throw out the recipe available to them for a much-needed culture change, so that students succeed. As Mayor DeStefano pointed out during one of the Commission's fact-finding presentations, stadiums don't make great cities, good public schools make great cities as people will desire to live where there are good schools. Businesses will want to invest in communities with a good schools, creating jobs and a stronger tax base. Most importantly, a good education enables children to have hope for their future.