Court testimony is scheduled to start Friday morning before Superior Court Judge Barry Stevens who'll weigh several options: certifying City Councilman's Marcus Brown's two-vote win over incumbent State Rep. Jack Hennessy in the August 9 Democratic primary; declaring Hennessy the winner based on voting irregularities; or calling for a new primary.
Hennessy's lawyer William Bloss, an experienced elections attorney, has filed a motion with the court highlighting alleged voting irregularities he'll will raise at trial. See the motion here.
Witnesses could include, based on this court filing: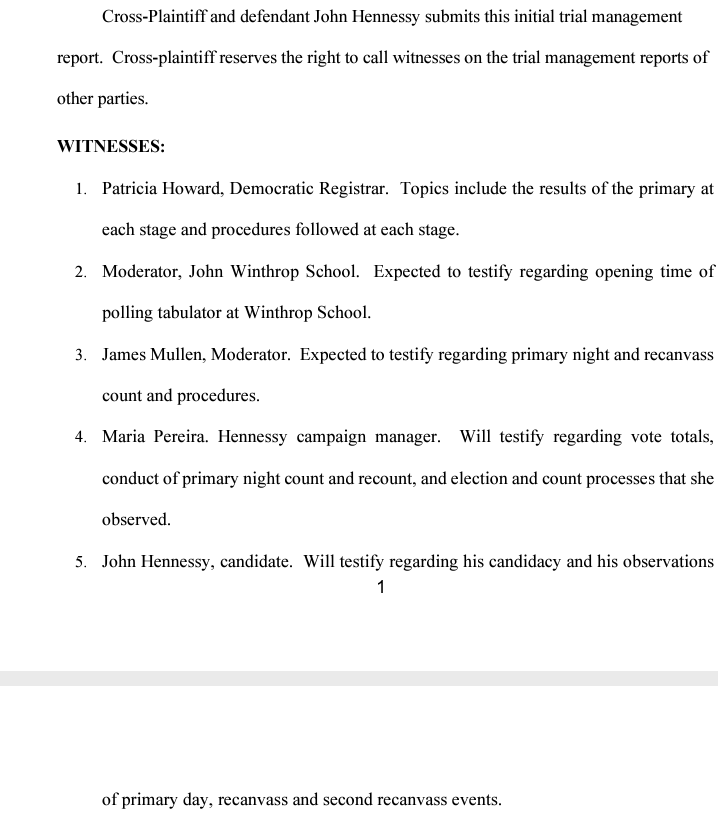 In the days after the primary night vote tabulation, Pereira and Hennessy scoured the district for absentee ballot issues that could provide handy work to question the five-vote outcome benefiting Brown. A recount placed Hennessy ahead by one vote, but with nine absentee ballot votes not included in the tabulation because they were misplaced in a bag of another district.
Brown filed a court complaint. Stevens ordered a hand count of all the ballots cast in the 127th State Assembly District. The nine ballots were discovered giving Brown a two-vote lead. Hennessy filed a cross complaint that brings the case to trial.
Bloss is expected to call to the stand several district absentee ballot voters intended to persuade the judge some pause about the outcome. The focus centers on the processing of absentee ballot applications, but not actual voting ballots.
The voters will likely be cross-examined by Brown's lawyer John Kennelly and Deputy City Attorney John Bohannan who represents city officials named as defendants. All lawyers in this case are seasoned in election matters.
Stevens presided over the election complaint filed in the aftermath of Mayor Joe Ganim's 2019 Democratic primary win over State Senator Marilyn Moore who won the walk-in vote but lost handily via absentee ballots that provided Ganim a 270-vote certified win.
The judge ruled there was not enough heat to change the result. The Connecticut Supreme Court agreed unanimously.
This case is a reverse ratio: Brown won the walk-in vote at all three district precincts. The absentee ballot work by Pereira overwhelmed to keep it tight.
So far the Brown camp is not alleging absentee ballot irregularities on the other side.
Judges loathe to change vote outcomes unless there's egregious evidence. This one is just two votes. Take a vote away from Brown and give it Hennessy now it's dead even.
No one knows how this case will shake out. Depends how it plays out in the courtroom.
If the judge believes a few voters intended to do this and ended up doing that, or were dubiously assisted in filling out an absentee ballot, that could represent enough heat.
Stay tuned.