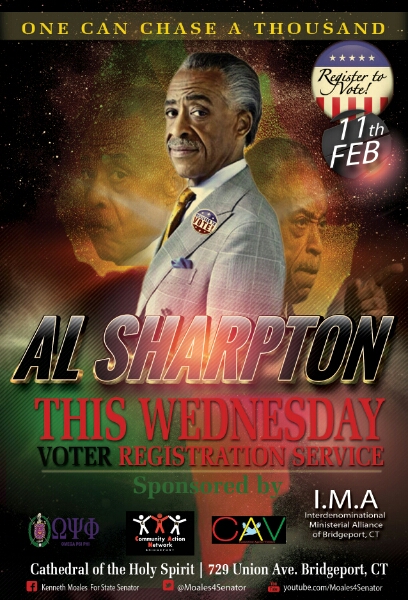 Under the guise of "voter registration service" in conjunction with the Interdenominational Ministerial Alliance, Rev. Al Sharpton is scheduled to visit Bridgeport Wednesday evening at the church of State Senate candidate Ken Moales. Problem is today (Tuesday) is the deadline to register by mail, according to elections officials. That means any new voter registration cards received after today will not be entered until after the special election, unless it is an in-person voter registration. That deadline is February 23. The special election for State Senate is February 24.

Sharpton is scheduled to appear at Moales' church Cathedral of the Holy Spirit, 729 Union Avenue, according to information posted on Facebook that includes Moales' campaign contact listings at the bottom.
Sharpton and Moales have developed a lot in common: both ministers, both political lightning rods and both tax deadbeats. See New York Times piece here. OIB piece on Moales here.
A spokesperson for the office of the Connecticut Secretary of the State as well as Democratic Registrar Sandi Ayala confirm the respective voter registration deadlines. Ayala says any voter cards received after today, unless it is an in-person registration at the Registrar's Office in the Morton Government Center Downtown, will not be entered into the system for voting privileges until after the special election. Former Democratic Registrar Lisa "Honey" Parziale alerted OIB readers to the deadline in a comment post.
So maybe Sharpton's firebrand pitch will urge new voters to sign up directly at the Registrar's Office. Good luck with that. Or maybe he'll unleash a hair-raising endorsement of Moales?
Last week Moales' "huge community announcement and press release with the IMA & Hispanic Pastoral" for an endorsement fizzled out. The IMA as an organization no longer endorses, although its members are free to associate with campaigns.
Moales, a member of the Board of Education, is a petitioning candidate for the February 24 special election to fill the seat of Andres Ayala, the commissioner of the Department of Motor Vehicles. He's facing Democrat Richard Dejesus, Republican Quentin Dreher, Working Families Party Ed Gomes and petitioning candidate Charles Hare.