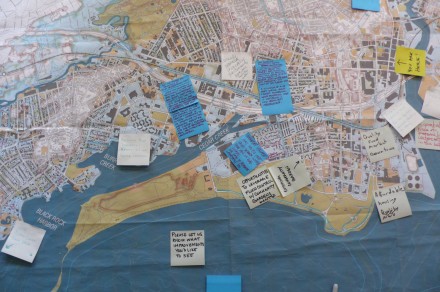 If you live even remotely near the city's waterfront during a storm, sometimes the bluefish swim in as involuntary company, along with a lot of water damage. A plan is under review to reduce flood risk for the South End and Black Rock Harbor areas. It's called Resilient Bridgeport. A public information meeting for Resilient Bridgeport will take place Oct. 18, 6 pm in Littlefield Recital Hall of the Arnold Bernhard Arts & Humanities Center, 84 Iranistan Avenue to provide an overview of the program as it launches into the next phase: "environmental review and preliminary design for both the National Disaster Resilience (NDR) funded and Rebuild by Design (RBD) funded projects. Together, these investments will build the foundation for long-term economic, environmental and social resilience in the South End of Bridgeport."

An open-house session will start at 6 pm to provide attendees an opportunity to speak one-on-one with representatives from the Resilient Bridgeport Project team. A presentation will follow at 7 with detailed information on the Resilient Bridgeport Program as it transitions from the RBD funded planning phase to the NDR funded implementation phase. More information about Resilient Bridgeport is available at www.resilientbridgeport.com.
David Kooris, the city's former director of development who left city service in the spring of 2016, is tasked with managing the federally funded project to improve Bridgeport's shoreline infrastructure as one of his responsibilities with the state.
See design team here.
In 2014, the U.S. Department of Housing and Urban Development (HUD) selected the City of Bridgeport and a multidisciplinary design team led by New Orleans-based Waggonner & Ball Architecture/Environment to prepare an integrated resilience framework for Bridgeport through the federal Rebuild by Design Competition. The resulting HUD grant award of $10,000,000, received by the State of Connecticut in 2015, is being used to develop a plan for reducing flood risk and improving resilience for the South End and Black Rock Harbor areas, and to build a pilot project in the South End that serves as a catalyst for full implementation of broader flood protection and resilience strategies.