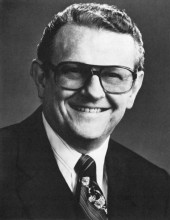 Ed Caldwell was one of the good guys in city politics. Decent and caring, Caldwell goes back to an era when Bridgeport elected officials had real juice in Hartford. He served as a state senator from Bridgeport and also as state comptroller. His influence locally was such some of his political peers referred to him as chairman of the board. He passed away on Wednesday.

Statement from Governor Malloy and Lieutenant Governor Nancy Wyman:
Governor Dannel P. Malloy and Lt. Governor Nancy Wyman on Saturday released the following statements regarding the passing of J. Edward Caldwell, the longest serving State Comptroller in Connecticut history, who held that office from 1975 to 1991:

"Ed Caldwell dedicated his life to serving the public, beginning with his service to our nation in the US Army during World War II," Governor Malloy said. "Through his time as State Senate Majority Leader and as State Comptroller among his other civic positions, he had an unwavering passion for the people he served and left an indelible mark on the State of Connecticut. My condolences and prayers are with his friends and family.

"Ed was a great public servant who cared deeply about his family and about serving the people of Connecticut with dedication and integrity," Lt. Governor Wyman said. "I will remember him as a man with a special singing voice whose legacy serves as an example for anyone in public service to follow."
Caldwell obituary:
J. Edward Caldwell, age 86, of Stratford, CT and Narragansett, RI passed away peacefully on Wednesday, October 9th surrounded by his loving family. He was the beloved husband of sixty-one years to Eileen Young Caldwell. Born in Bridgeport on June 13, 1927, he was the son of the late Edward and Rosemary Caldwell. He is survived by his children, Kathleen Caldwell Taddei and her husband Len of Portsmouth, RI, Edward J. Caldwell and his wife Danielle Orcutt of Oakville, CT, James R. Caldwell and his wife Barbara of St. Louis, MO, Patricia Caldwell Condon and her husband Lawrence of Stratford, CT, John F Caldwell and his wife Diane of Marblehead, MA, Robert P. Caldwell and his wife Christine of Stratford, CT and Nancy Meszaros of Shelton, CT. He was predeceased by a son, Richard M. Caldwell. Ed was the proud grandfather of twenty grandchildren and three great-grandchildren. Ed graduated from Fairfield College Preparatory School in 1945 and he was a member of the first graduating class of Fairfield University in 1951. He graduated from the University of Connecticut School of Law in 1954 and was a member of the Connecticut Bar Association for over fifty years. He practiced law for many years with partners Bill and Hugh Lavery.

Ed served his city, state and country in many capacities during his lifetime. He was a US Army Veteran of World War II. He served as a State senator representing the 23rd District of Bridgeport from 1958 through 1974. During that period he served as Senate Majority Leader and Chairman of the Senate Committees on Appropriations, Elections and Bank and Claims. He was elected State Comptroller in 1974 and served under Governors Grasso and O'Neill. He was the longest serving state comptroller in the history of the state. He also served as Corporation Counsel for the City of Bridgeport and President of the Bridgeport Board of Fire Commissioners. Ed was active in politics throughout his life and as Chairman of the Bridgeport Democratic Town Committee and was a member of the Connecticut Democratic State Central Committee. His civic service included positions on the Regional Council of Housatonic Community College, the Board of Trustees of Bridgeport Hospital, and the Board of Trustees of Sacred Heart University. He was a member of the President's Advisory Board and the Board of Trustees for The Center for Financial Studies at Fairfield University. In 1967 he was named Man of the Year by his alma mater Fairfield University. He was a member of the St. Charles Holy Name Society, the Ancient Order of Hibernians, Knights of Columbus, the American Legion and Fairfield Prep Latin Scholars. Many people remember Ed for his love of music and his beautiful tenor voice. He was one of the founding members of the Fairfield University Glee Club serving as tenor soloist. He sang in many church choirs and barbershop quartets. Until his passing, Ed sang with the Coastal Chordsmen Barbershop Chorus. He shared his talent at many social and civic events throughout his life. His Irish eyes were always smiling. Friends are invited to attend his funeral service on Tuesday at 10:30 a.m. DIRECTLY at St. James Church 2070 Main St. Stratford, CT for a Mass of Christian Burial. Interment to follow at Gate of Heaven Cemetery. Friends may call on Monday from 3-8 p.m. at the Cyril F Mullins Funeral Home 399 White Plains Rd. Trumbull, CT. In lieu of flowers, memorial contributions may be made to the Leukemia & Lymphoma Society through the funeral director or the Michael J. Fox Foundation for Parkinson's Research, Grand Central Station, PO Box 4777, NY, NY 10163. To leave an online condolence please visit mullinsfh.com.