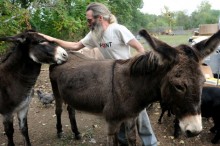 From Brian Lockhart, CT Post:
Not long ago, city health officials were threatening to seize Christopher Toole's chickens. That was before Toole found an ecological soul mate in Bridgeport's green mayor. Now the urban farmer has the city not only playing host to his flock of hens, but numerous goats, a few donkeys, a pig and a tub of finned tilapia and goldfish.


And thanks to Toole, Mayor Bill Finch has his staff crafting a poultry policy similar to New Haven's, to allow city households to legally raise chickens for their fresh eggs.

"We are incredibly grateful to the mayor," said Toole, who for several months has quietly tended his small farm on excess land at the city's animal shelter at 236 Evergreen St. Specifically, Toole has taken over a vacant pen for captured raccoons, an extra dog run and a large field, he said.

"We're getting food for our family," Toole said, referring to the eggs and goats' milk. "There is a survival aspect of this, and he's enabled us to do that over the objection of the (city's) Department of Health."
Read more here.