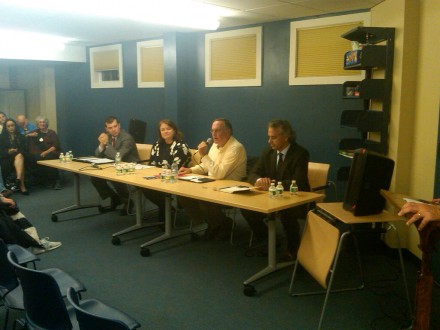 City Council candidates in the 130th District squared off Wednesday night for a spirited forum in the standing-room-only Black Rock Library conference room with Democratic incumbents Sue Brannelly and Steven Stafstrom emphasizing their efforts to reduce taxes in the mayor's proposed budget, pushing for renovations of Black Rock School while Republicans Rick Torres and Phil Blagys asserted the city is cratering under conflicts of interests, high taxes and poor development policy.

The forum was moderated by library employee John "Salty" Soltis, former two-term member of the Board of Education. About 75 people attended. The forum questions came from audience members.
A question was asked about the city's controversial $400,000 land deal with developer Manny Moutinho as part an airport improvement plan. Brannelly said there's a black mark on the project. She said the City Council doesn't have intimate knowledge of every detail that's presented. "The way that it happened stinks to high heaven." She blamed John Ricci, the airport manager who was terminated by the city for not disclosing his relationship with Moutinho. Ricci disputes the city's position, saying he disclosed his relationship and also recused himself from the process.
Blagys said he wants a breakdown of all the money that was spent on the project. "I don't know that the right question was asked" by council members. Blagys called it a bad deal. He filed an ethics commission action in relation to the land deal, but has not heard back regarding his claim. "We have an ethics commission that doesn't follow up on a request and a council that does not ask questions."
Torres said there is "ineptitude" in all levels of government. "We need transparency in the city. There's a lack of understanding of what a conflict of interest is … I'm running to bring normal sanity" to the council.
Another audience member asked about the city's dubious snow removal during the record winter storm. "We all know how difficult it was for people to get out of their homes," Brannelly said. "The communication piece was terrible. It was so frustrating trying to get answers for our constituents."
Torres responded there was a lack of accountability during the storm. "Heads should have rolled … We're not talking about a little mistake … this was a big one … seven days with your roads two feet high" in snow.
Blagys echoed no one was held accountable. "It was oh gee, we'll do better next time. That was a complete failure of government that could happen again."
Neighborhood resident Kevin Cassidy, a professor at Fairfield University, asked about conflicts of interests such as city employees serving on the City Council in defiance of the city charter. A loophole in state law allows the practice. State law prohibits municipal employees from serving on boards of finance, but in Bridgeport the City Council serves as the budget authority. Bridgeport State Representatives Jack Hennessy and Auden Grogins support legislation that would extend law to all municipal budget-making authorities. Government reformers say too many conflicts of interest exist such as city employee council members approving their own wages and benefits.
Blagys' praised legislation to close the loophole. "It's a no-brainer. Honor the will of the people."
Blagys added some on the City Council opposed it, a direct shot at Brannelly, sitting next him, who supports city employees serving on the City Council.
Brannelly, speaking to the issue acknowledged she's in the minority with her constituents. "This is a state issue. It was brought to the state and it was not passed… If I am a resident of the city of Bridgeport I want to encourage people from Bridgeport to work for the city… I know 90 percent of you don't agree with me, probably 99…but that is where I am.
Stafstrom said he supports the legislative provision offered by Hennessy and Grogins to grandfather in current city employees serving on the council while prohibiting city employees from sitting on the legislative body moving forward.
On a development question, Torres says capping property taxes will encourage businesses to invest in the city. "Transparency, putting a flag down with a cap … when we do those things businesses will come back."
Stafstrom added he wants to place an emphasis on addressing blight issues in the West End, increasing development opportunities to attract new business.
Brannelly urged voters to return her and Stafstrom to the council so they can continue to serve as budget watchers. Blagys countered he fears the city's on the verge of bankruptcy. "I know I can get people in here and look at the city in a different way. We need change in the city … I look for your vote so we can change things."
Torres says city financial reporting is "a complete mess … a joke … I promise you we will have two representatives who will act on your behalf."
The district covers Black Rock and a portion of the West End. City Republicans view this race as a chance to become a relevant voice on the city's budget and legislative body after being shut out by Democratic domination for years. Torres is the owner of the popular Harborview Market while Blagys' family has deep roots in the Black Rock neighborhood.
Brannelly serves as co-chair of the council's Budget and Appropriations Committee. Stafstrom, the nephew or former Democratic Town Chair John Stafstrom, joined the council in the spring following the resignation of Marty McCarthy who left the council to devote more attention to his Black Rock pizza restaurant. He's an attorney with the Bridgeport-based law firm Pullman & Comley which serves as the city's bond counsel.