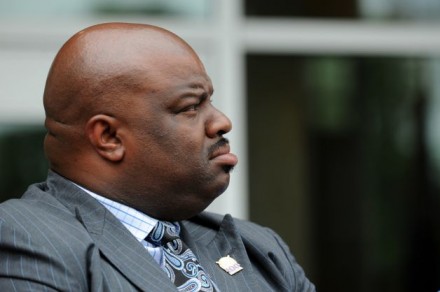 Yes, when all else fails, blame the media for your outstanding warrant. The Rev. Ken Moales, president of the board of education who's brought politics in the pulpit to an all-new sanctifying level, asserts his problems are really about the Connecticut Post that needs readers. So? What's wrong with that? Moales showed up at State Police barracks in Bridgeport Monday evening because gee, Post scribe Brian Lockhart called his house to report there's a warrant for your arrest. From Keila Torres Ocasio, CT Post:

Just after noon on Tuesday, Moales posted a message to his 7,242 followers on Twitter, a public social media site, about the Connecticut Post's coverage of the arrest warrant: "CT POST NEEDS readers! I must stay focused, Ignore the Critics & Solve The Real Problems! We are doing a good work & WE WILL NOT COME DOWN!!!"

When a reporter replied with a request for comment via Twitter, Moales responded with a tweet: "I will not call nor will I ever speak with you again until you apologize to my wife! NEVER defile the sanctity of our home!"

Full story here.