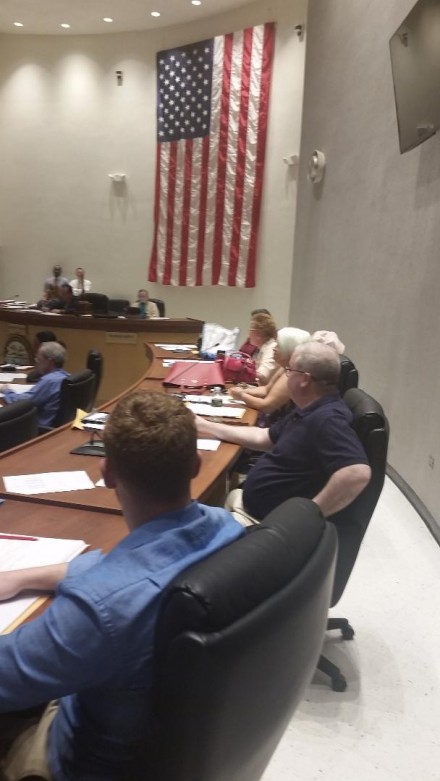 UPDATE: see council budget changes here.
The City Council by a 16-3 vote Monday night approved a city budget with no tax increase for the spending year that begins July 1. Councilors Kyle Langan, Pete Spain and Eneida Martinez voted against the budget urging more support for city schools.

Councilor Ernie Newton offered a different take on education spending asserting "The school board has no accountability … they've done a poor job not going after the top-tiered" administrators.
School board members Dennis Bradley, Maria Pereira and Jessica Martinez sat in the front row of the council chambers taking in Newton's comments. Newton's remarks struck a nerve with the passionate Martinez. Upset, she got off her bench and walked out of the council chambers.
After the meeting Newton explained, "We have to make tough decisions in others of the budget. We have responsibilities to city safety, fire, public works–a lot of stuff that the board of ed doesn't have to worry about. They depend on the state just like we depend on the state. This is not personal, but somebody has to say the Board of Education has not been prudent in how it spends its money. The board has been so dysfunctional fighting with each other. You can't blame us for that piece. What do they want to do, lay off police, fire, sanitation workers? You have to be responsible. I'm for kids, but we have to be responsible for the kids in the areas of police, fire, sanitation and recreation as well."
Newton's East End council partner Eneida Martinez made an appeal for more school funds, wondering why the city doesn't shut down its two municipal golf courses to provide more school money. North End councilor Michelle Lyons retorted "The golf course makes a profit," adding the city is "stuck between a rock and hard place trying to find money on both sides of the street."
Black Rock councilor Pete Spain noted the school board went through the "painful exercise" of "cutting to the bone" eliminating coaches, substitute teachers and books.
West Side councilor Kyle Langan proposed more than one million dollars in cuts, to return that money to schools, ranging from police overtime to "supportive contributions" that go to nonprofit organizations. His proposed cuts failed in an amendment vote.
Finance Director Ken Flatto says the tax rate, 54.37 mils, will remain the same.
Technically, the council's Monday vote now returns to Mayor Joe Ganim for possible veto action until the official setting of the mil rate in early June. The total spending plan is roughly $558 million.
Councilwoman Maria Viggiano, who gave birth a few days ago, did not attend the meeting.