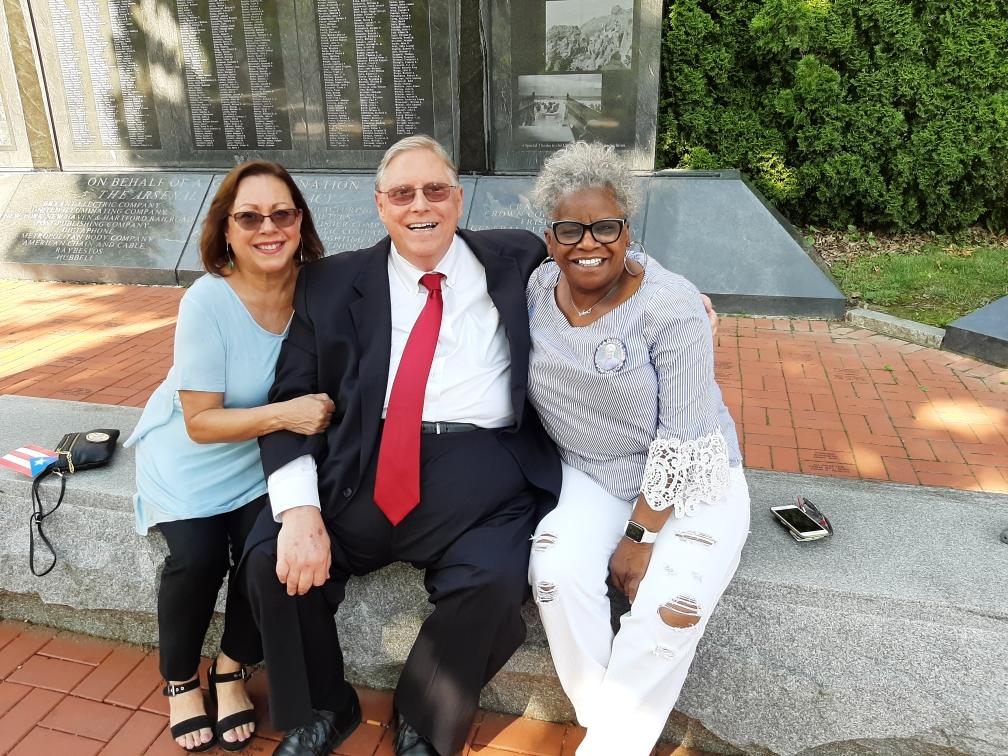 Unexpected political thrills occur organically. They don't often happen by design, although design can also boost campaign enthusiasm. Sometimes they can happen over a conversation in a cafe.
On Thursday State Senator Marilyn Moore's campaign for mayor received a needed jolt of juice landing two-time mayoral contender Chris Caruso as the candidate for town clerk and recruiting Alma Maya, who recently retired from Mayor Joe Ganim's payroll, for city clerk rounding out a top-of-the-ticket.
For Moore's camp the plan may have been simmering for a while but organically it did not come together until a few days ago. Little things in life matter including trusted relationships. In 2008 Moore challenged party-endorsed Anthony Musto in a Democratic primary for State Senate. She came up short. Caruso, then a State House member, supported her. Six years later Moore did the improbable knocking off incumbent Musto in a primary. Caruso supported her bid, albeit quietly on the state payroll appointed by then Governor Dan Malloy. Appearances must be kept.
Who's Chris Caruso? Some history:
In the early 1980s Caruso was an old head on a young body, a gifted public speaker, a few years removed from Notre Dame Catholic High School, elected to the City Council. He was a stick-in-the-eye to authority and built his prestige that way, damn the consequences. He was the lightning rod of city politics. To compare think school board Maria Pereira, although Caruso will argue he's a bid more practical than the self-styled piranha of city politics.
Long story short, Caruso railed against back-door deals that could have as easily come out in the open. If Caruso was on your side you loved it; if he was against you oh my, the prehistoric noises from the establishment.
In 1986 he actually served one, two-year term as Democratic Town Chair. It was not a fit for the times. A few years later he defeated incumbent State Rep. Bob Keeley in a primary to represent the 126th State House District. Caruso stayed there for 20 years surviving, handily, primary challengers recruited by Democratic Town Chair Mario Testa.
Along the way Caruso ran for mayor in 2003 finishing a close second in a primary to John Fabrizi who had assumed the mayoralty as City Council president when Ganim was forced from office following his conviction on federal corruption charges.
Fabs went on to win a four-year term in November. Gregarious with a connection to the ordinary voter, Fabs had his own issues such as cocaine usage that hit the front pages. The bigger blow, however, came in the spring of 2007 when he quietly walked into a court room seeking leniency on behalf a of man charged with sexual assault of a minor. The man was friends with Fabs son. The father stepped up for his boy. It cost him. Fabs didn't count on Connecticut Post reporter Dan Tepfer sitting in the courtroom. The news cut across every demographic group in the city.
The Democratic Party conducted a poll. Fabs was toast against a Caruso candidacy for mayor. Party regulars persuaded Fabs to reject reelection. They recruited then-State Senator Bill Finch to step up. Why? A Caruso mayoralty would powerwash the political system. Can't have that. They needed someone to beat Caruso.
The party regulars did just enough to eke Finch into office.
Caruso continued as the political watchdog. In 2010 he supported Dan Malloy for governor. Malloy won. Caruso received a state job backed by (holy cow) the establishment who wanted Caruso out of the way. (Please take him so he won't torture us in another mayoral cycle.)
Caruso settled into his state job in the Department of Labor that has an office in Downtown Bridgeport.
So for the better part of the past decade the political warrior was largely disengaged from city politics. He retired a few weeks ago coupling his State House tenure with his Labor Department earnings for a pension.
Caruso's passion for politics and government endured.
A call from Marilyn Moore. Let's get together to catch up. Hello Crown Cafe in the North End. A few days ago Moore and Caruso sat down.
Caruso wasn't expecting the question. How about joining my ticket? Whoa. I'm retired with a passion for the city, why not? A ticket marriage was made.
What does it mean in the larger picture?
Caruso supporting Moore on this level energizes her campaign in the short term.
The larger question becomes, how does the Moore camp contrast her opposition to Ganim, a supreme retail politician who will outspend her mightily?
Four years ago at this time Ganim was inspiring new voters to the polls to back his second-chance message. It worked.
It comes down to this: the argument must always be made, here's why you should hire me and fire him.