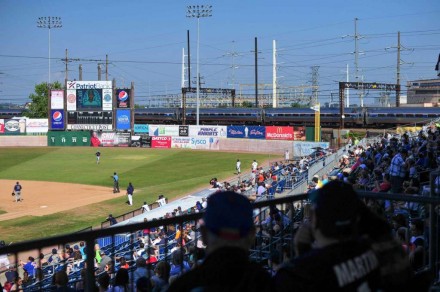 Sometimes fans don't know how to say hello until it's time to say goodbye. Just about everything has a shelf life and after 20 years the Bridgeport Bluefish on Sunday played their last game at the Ballpark at Harbor Yard, the first three years an average attendance of roughly 4,500 per game, but in recent years well below that figure. Kudos to loyalists in good times and lean years. Crowds in the final weekend rivaled the early years, but as Carmen Macisco of Newtown told the CT Post "If they supported it like last night, maybe they'd still be here."

The season average was 2,984, a tick above the past couple of seasons, well up from the depths of around 2,000 in 2012 but still regularly last in the league. (This was also the first winning season here since 2011.)
Following a request for proposals in which the Bluefish entered a bid, Mayor Joe Ganim selected a joint venture advanced by concert promoter Live Nation, led in Connecticut by Jim Koplik, and former Bridgeport Sound Tigers President Howard Saffan, to transform the ballpark into a concert amphitheater including a $15 million renovation to start spring 2019. The proposal is under negotiation and is expected to come before the City Council in early 2018.
The Fish recently announced a new home in High Point, NC with an expected opening in a new stadium in 2019. It's unclear where they'll play in 2018.
Bluefish baseball was a psychological shot in the arm for the city when it opened in 1998 under an ownership team that included current Bridgeport Regional Business Council President Mickey Herbert and then husband-wife Jack McGregor and Mary-Jane Foster.
The ballpark land had been owned by Donald Trump who purchased the old Jenkins Valve site as a prospective location for a gaming destination. In 1995 the State Senate rejected expanded casino gambling beyond the Foxwoods and Mohegan Sun destinations in eastern Connecticut.
Bluefish ownership eyed the old industrial site as a fit for professional baseball. In negotiations with Ganim, Trump deeded the property to the city in exchange for forgiving more than $200,000 in back taxes. Trump let the taxes go in lieu of a casino development interest.
Bridgeport became the landlord and the Bluefish had a home as an independent league team.