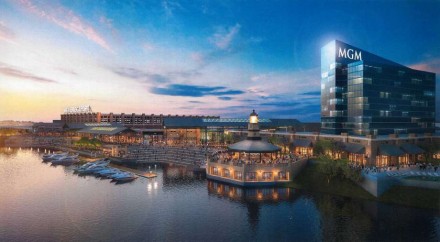 With the promise of 2,000 permanent jobs matched by 2,000 slot machines, MGM officials this morning including Bridgeport-born CEO Jim Murren will unveil plans for a $675 million waterfront resort on Seaview Avenue including a 300-room hotel, 900-foot boardwalk, 30,000 square feet of retail space and 160 table games. In a city in dire need of jobs and a state bleeding major businesses to other states, MGM hopes the waterfront resort provides backbone to the state to break the exclusive casino rights with Connecticut's two tribal nations.

MGM is offering the state an annual revenue stream of $316 million and a $50 million licensing fee. Bridgeport will receive $8 million a year as the host city in addition to tax revenue if built as proposed on the former site of Carpenter Technology, across the street from the Bass Pro Shops anchoring the Steelpointe Harbor development. MGM seeks no public subsidy.
CT Post reporter Neil Vigdor has more:
MGM executives pointed to last December's opening of MGM National Harbor in Prince George's County Maryland, just outside Washington, D.C., as a benchmark for the Bridgeport project. Bridgeport, along with a project in Tokyo, are the top two priorities of the company's CEO, Murren, they said.

"I don't know when those two cities are in the same sentence," (Uri) Clinton (MGM official) said.
Full story here.