Don't ya just love blackmail photos? Well, at OIB you never know when a photo will come in handy. A sampling from the party at Captain's Cove, courtesy of Con Filardi and Sly Salcedo. (Warning, clicking on a picture gives you a full-sized version.)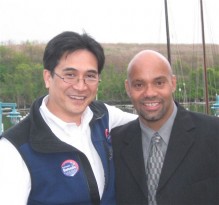 Sly Salcedo, left, and Joel Gonzalez conspiring to thwart District Leader Mitch "The Switch" Robles' hand-picked candidate Eze Santiago for state representative.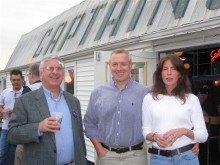 Jonathan Kantrowitz, guardian of My Left Nutmeg, talks bipartisanship with Bridgeport Republican Town Chair Marc Delmonico and his bride Barbara. Hey Jonathan and Marc, no deal cutting without me!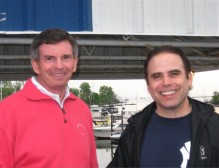 The ultimate blackmail photo. That's Bruce Hubler smiling, but gritting, "Lennie, not so close."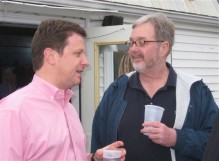 Republican State Sen. Rob Russo tries to blarney wily Tom Kelly. TK had Robbie so dazed and confused that the senator switched to club soda.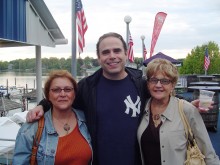 Now we're talking. I'm sandwiched by East Side District Leader Marilyn Middlemass and Mother Goose, aka Dottie Guman, vice chair of the Bridgeport Democratic Town Committee. Don't mess with Mother Goose.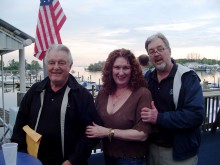 The legendary Gino, as in Gene O'Neill, left, with the grand dame of Bridgeport's Democratic Party Johanna Dorgan. Hey TK, get your hands off! And Gino, what's in the envelope?
Good grief, Gino and TK again. Watch out, Sly.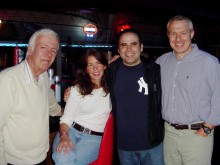 Captain Charlie Coviello, Barb Delmonico, the biggest Yankee fan on the planet, and big Marc Delmonico who pours concrete for a living, the perfect profession for politics.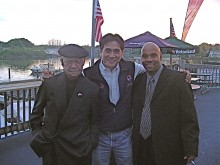 The legendary Three Amigos, from left Chico, Sly and Joel. Hey, Sly, watch your pockets!