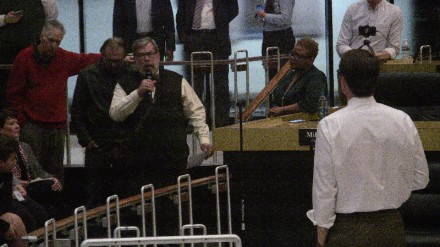 City fiscal examiner John Marshall Lee Tuesday night encouraged City Council members to step up their watchdog roles in the city budget process. From Lee:
Three weeks ago Kenneth Flatto, City Finance Director, sent out the Comprehensive Annual Financial Report (CAFR) for FY 2016 as required along with his letter to us all before the 125 pages of financial statements and Notes. This annual audit is a document with much serious information that indicates trends important to taxpayers.
I have read the entire report once as I have done each year in recent years.

Did you know the State of CT sent almost $77 Million more to Bridgeport in 2016 than in 2015? The total amount went from $324.2 Million to $401.0 Million and almost 90% of that increase went to increases in School Construction Grants, $63.5 Million and Department of Education grants $5 Million. Still awaiting the Federal audit document.

We lived through revaluation Finch style in 2013 and then again in 2015, paying over $300,000 each time but with very few people seeing the 2013 results. Last year in the February 15, 2016 letter for the 2015 CAFR, Ken Flatto wrote: "The City's taxable base remains steady and is demonstrating some growth with the October 1, 2013 with a Net Taxable Grand List at $7.1 Billion." Four pages later in a section on "Reassessment" he told about the 2015 valuation and predicted that the Grand List was to be established on February 29, 2016. You know that it was. It lost about $1.2 Billion of value and caused the mil rate to increase even if there had been no budget increase. But there was a budget increase and a tax increase. Why did Finance reference 2013 results? Why not latest info that was in City Hall even if not yet finalized? Where can a taxpayer see, on a regular basis what "economic development" is occurring that will grow the Grand List faster than the budget?? Is that something you can point me towards?

If the City is nearing settlement terms over the former CRRA property tax court case and a decrease in their assessment that could reduce City Grand List by $100 Million or more, don't we wish a way to keep our eyes on such increases and decreases? Is that something you will keep in mind as you talk to each department about their budget this year? When I hear a small business tell me they had to visit five different City offices, with very pleasant employees, but no simple way to be instructed in our City permit process, what are we to think? What encourages economic development?

Ten years ago the City established an "internal service fund" for risk financing activities. We had over $88 Million of deficit two years ago. It may be less now, but why did this year's CAFR indicate a policy change from last year when it said "deficits will be amortized over a reasonable period of 5-10 years" and this year a change in reasonable period meant "10-12 years?"

The City Fund balance, the unassigned, unreserved, and unpledged cash increased slightly last year to $14.3 Million, however not only is this low relative to the minimum required under City policy, but it also puts a lie to the notion that 50% of City asset land sales will go to increase the Fund Balance. City property sales were over $6 Million and the fund balance only increased $1.2 Million.

On page 11 there is a math error of $100 Million that a proofreader missed. What if it were a "financial error" instead? Who would notice?

I have asked you to be watchdogs. There are no others for taxpayers in this City. Will you ask for changes in the monthly financial report to include variance recording of expenses? You will see that the City operated with budgeted employee expense variances for six months. Will anyone ask for details, like current employee lists that will be updated monthly? Time will tell.