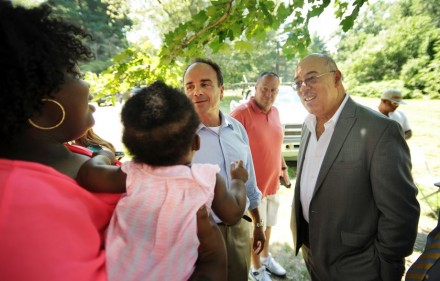 From Brian Lockhart, CT Post:
Earlier this year some City Council members sought to trim the budget by defunding the $120,000 public safety adviser job Mayor Joe Ganim created for a political ally, ex-Police Chief Wilbur Chapman …
The joke was that Bridgeport had three police chiefs: Chapman; Joseph Gaudett, who was chief up until earlier this year, when Ganim hired him as a public safety communications contractor to get Gaudett out of his contract; and Armando "A.J." Perez, the career cop and Ganim loyalist whom the returned mayor made chief.

Plus Chuck Paris, the police union head who endorsed Ganim, has had a far more visible presence in Ganim's City Hall.

Just weeks after the new municipal budget that funded Chapman's position for a full year was passed, Chapman stormed out of City Hall in early July. The rumor was he had quit. Chapman returned to work a few days later, acknowledging he had been angry over "inefficiencies" but had intended to return to the office.
Full story here.