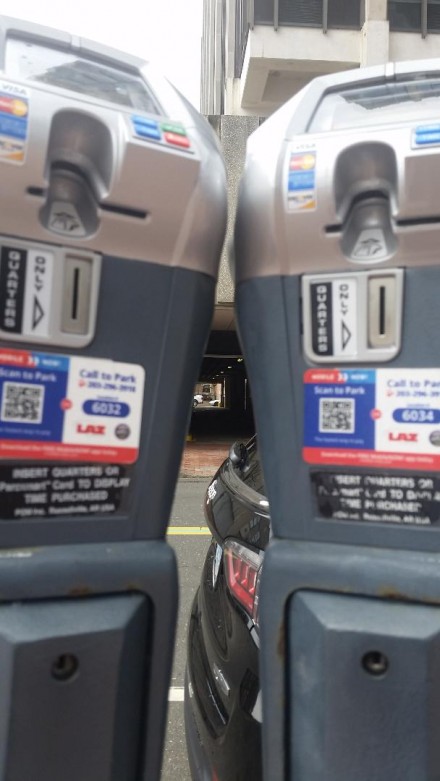 Installation is moving along nicely, according to Steven Auerbach, the city's indomitable purveyor of smart parking meters with a few tweaks remaining like those fronting the People's United Bank headquarters on Main Street requiring a cherrypicker for short people. Mayor Joe Ganim stands 5'6″ tall. The instructional digital readout of the meters above would escape him.

I stand 5'9″ and had to giraffe my neck to view the instruction panel for coinage. Now think about someone, male or female, who stands 5'4″ inches tall, roughly the vantage point, in the above captioned image. You park your car, you get out of car, you pull out your change or credit card and lo and behold … you must jump back into your vehicle to find a meter that accommodates your size. Hmmm.
When I contacted Auerbach and explained this situation his knee-jerk response was, "With all the things going on in Bridgeport this is all you and (CT Post reporter) Brian Lockhart can write about?"
Steve, isn't the point with all the hundreds of thousands of taxpayer dough that's been invested into the rollout of these parking meters, to finally get it right rather than meow, meow, meow?
To Steve's credit, after assuring me I was wrong, he checked it out and declared yes, it's not the correct height and it will be corrected, all to ADA compliance.
Let's hope so.