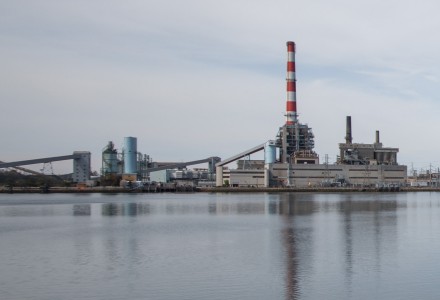 Bridgeport's Harbor Station in the South End, the last coal-burning plant in Connecticut, is undergoing a $550 million gas-fired conversion expected to power energy to the region in the summer of 2019. Health concerns, however, stretch far beyond the state's borders that environmental activists assert impact local residents, as noted in this story by CT Post reporter Bill Cummings:
Connecticut for years has complained about–and filed lawsuits over–pollution from Midwestern coal-fired power plants that wafts into the state on prevailing winds and causes health problems, including asthma and lung disorders.
The smog also factors into preventing the state from meeting Greenhouse gas reduction mandates and goals.

The Trump proposal is "an egregious act" that will lead to premature deaths, lost school days and thousands of additional asthma attacks, said Leah Lopez-Schmalz, chief program officer for the Connecticut Fund for the Environment.
Full story here.
See webcam of Bridgeport plant conversation here.