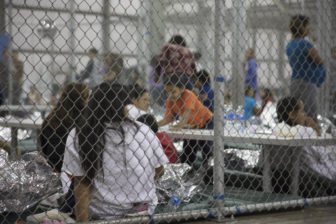 From CT Mirror reporter Anna Radelat:
Connecticut lawmakers at the U.S.-Mexico border this weekend said they were moved, and even shocked, by what they saw up close as the effect of the Trump administration's immigration policy.
"It was worse than we ever thought," said Rep. Rosa DeLauro, D-3rd District.

DeLauro and Reps. Joe Courtney, D-2nd District, Jim Himes, D-4th District and Elizabeth Esty, D-5th District, were part of a group of 25 Democratic lawmakers who toured a U.S. Customs and Border Protection processing facility in McAllen, Texas, and the Port Isabel immigration processing center in Brownsville, Texas on Saturday.

The Connecticut Democrats spoke of sobbing mothers who did not know where their children were and pleaded for help, families in holding centers ringed with barbed wire, and children sleeping on concrete floors under mylar heat-resistant blankets.
Full story here.