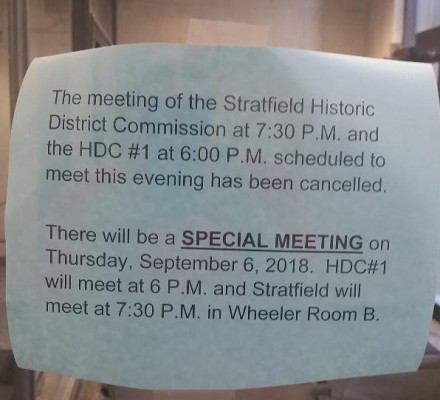 … Reschedule a meeting because they'd be facing retired Superior Court Judge Carmen Lopez–questioning the veracity of a city commission–backed by a state official who notified commissioners to do their job … so a notice is posted at the front door of City Hall. Lopez and a number of other city activists showed up to City Hall in anticipation of the meeting. They were greeted by the above cancellation notice.

This story centers on the Washington Park area turned into a gated community without proper oversight. For details see here.
Municipal lawyers were concerned about Lopez's intervention on behalf of former City Councilman Bob Halstead so they bought some time to figure out a legal strategy.
Deputy State Historic Preservation Officer Mary Dunne has notified the chair of the Bridgeport Historic District Commission that it cannot pass the buck in the enforcement of its regulations. Someone in the city, by state law, must step up such as the zoning office.
Dunne sent this recent letter to Stuart Sachs, the district commission chair, following a review of the commission's work by Lopez.
I am writing regarding an email correspondence I received from Attorney Carmen Lopez regarding an issue that recently came before the Bridgeport Historic District Commission. While addressing the commission to report a violation of the local historic district ordinance, Robert Halstead was informed that the Bridgeport Zoning Official, does not enforce any Historic District regulations because his job description exempts him from this responsibility.

Please be aware that CGS section 7-147h (a) states: "regulations and orders of the commission issued pursuant to said sections, or to any regulation or ordinance adopted said sections, shall be enforced by the zoning enforcement official or building inspector or by such other person as may be designated by ordinance, who may be authorized to inspect and examine any building, structure, place or premises, and to require in writing the remedying of any condition found to exist therein or thereon in violation of any provision of the regulations or orders made under the authority of said sections or of any regulation or ordinance adopted under said sections."

If the Zoning Official is exempt from this responsibility, someone must be designated in his stead. As a Certified Local Governent, Bridgeport needs to be mindful of its commitment and responsibilities regarding support of the Historic District Commission.

While our office does not have the authority to direct municipal actions under the statutes, please let me know if our office can assist in any way to ensure that an appropriate enforcement officer is designated.