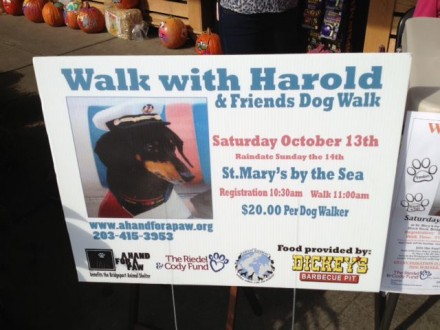 For State Rep. Auden Grogins, the Blonde Banshee from Black Rock, furry friends are like her children. News release:
State Representative Auden Grogins (D-Bridgeport) received the National Humane Society's "Legislator of the Year" award today during a ceremony at the Legislative Office Building in Hartford. Rep. Grogins is a member of the Legislators for Animal Advocacy caucus and has proposed and co-sponsored a number of bills over the years that advocate for animal protection.


"I am honored to be given this very important award today by the National Humane Society," Rep. Grogins said. "I believe that animals need a voice in Hartford and deserve to have people advocating for their welfare."

"Anyone who knows Auden Grogins knows she has always been a strong voice for protecting animals," said Speaker of the House Brendan Sharkey (D-Hamden). "Since being elected to the General Assembly, Rep. Grogins has been passionate about animal rights and a strong leader on this issue."

Rep. Grogins believes that there are two parts to standing up for animal rights. The first is stopping animal cruelty because it has been proven that animals have feelings and grieve like humans, but are unable to control their suffering. The second is teaching our youth humane education. This includes educating people about the feelings of animals, and how to treat them so they do not suffer.

"Representative Grogins has worked tirelessly to promote bills that improve the welfare of Connecticut's animals," said Annie Hornish, Connecticut State Director for The Humane Society of the United States. "The Humane Society of the United States is enormously grateful for her extraordinary work. Animals and citizens of Connecticut are lucky to have Representative Grogins' skills, compassion, and tenacity representing them in the General Assembly."

The National Humane Society's "Legislator of the Year" award is given out annually to select state legislators who pursue meaningful animal protection legislation and advance reform in the policy-making arena.
Statement from Mayor Bill Finch:
"I've known Auden Grogins for many years, and I can't think of anyone more deserving of recognition for her animal rights advocacy efforts. As a state legislator she has provided a voice for animal protection and education throughout the state, and especially here in Bridgeport. Her dedication to the cause of animal rights is worthy of this commendation by the Humane Society.'