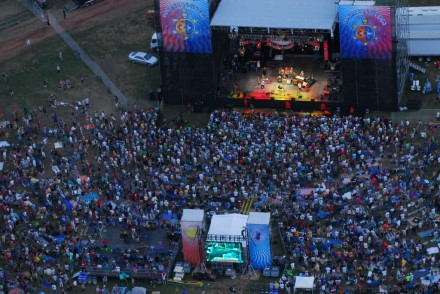 The city's Ethics Commission, according to City Council President Tom McCarthy, unanimously dismissed a complaint by Republican Town Chair Marc Delmonico over City Council members offered full free access to the Gathering of the Vibes, the city's annual hippie fest at Seaside Park that draws more than 20,000 ticket buyers.

The Vibes is a nice event for the city, but Delmonico argued that the goodies available to the city's legislative body violates city ethics and city charter regulations. Council members, he reasoned, receive benefits for a contract they must approve. In addition to council members afforded full access to the event that would cost hundreds of dollars to the average ticket buyer, members of the legislative body can also bring a companion. McCarthy has taken OIB to task for blowing Delmonico's complaint out of proportion. Big Mac apparently argued his case convincingly to the ethics commissioners that the spirit of the agreement is simply to monitor the event for future viability. I believe McCarthy when he says he goes for a half hour to do his due diligence. A hippie fest may not be a cup of tea for a Generation X guy. (We Baby Boomers have a different point of view.) But the legislative policy is dubious. Council members can benefit from a contract they approve. But let's suppose council members, as a legislative function, should receive VIP treatment. Why a companion?
Intriguing to me is that McCarthy, a defendant in the complaint, knew about the decision weeks ago. But no one from the Ethics Commission thought it proper to notify Delmonico who brought the complaint. Delmonico and Big Mac had a friendly sparring session over this at the OIB party Wednesday night.
The Ethics Commission operates largely in secret due to the sensitive nature of its business. That's understandable. But how about a courtesy to the person bringing a complaint, even if  it's a simple "complaint denied?"
The Ethics Commission was created 25 years ago through an executive order by Mayor Tom Bucci to monitor the conduct of elected and public officials. I know just about everyone on the Ethics Commission. All good people. It's befuddling to me that they think, assuming McCarthy has been notified of its decision accurately (they don't issue press releases), that most council members really attend the Vibes for the purpose of monitoring its future viability. And what about the companion?
Ethics Commission members, according to City of Bridgeport web site:
Mary Donnelly (D)
53 Reading Place
Bridgeport, CT 06604
Joseph W. Ianniello (R)
128 Balmforth Street
Bridgeport, CT 06605
Harry Weichsel (U)
64 Janet Circle
Bridgeport, CT 06606
Robert Filotei (R)
365 Sailors Lane
Bridgeport, CT 06605
Term Expires 12/31/09
Lizette Garay (D)
1394 North Avenue
Bridgeport, CT 06604
ALTERNATES
Joseph Giaquinto (D)
253 Rosewood Place
Bridgeport, CT 06610