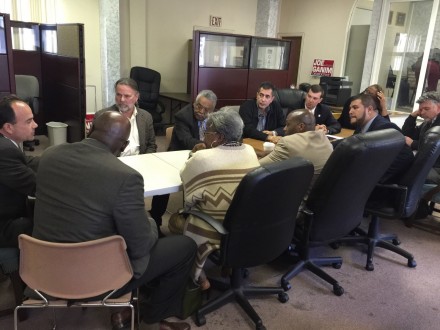 A new mayor, new city clerk, new town clerk, new school board members, several new City Council members. The 2015 election cycle was arguably a once in a lifetime extravaganza. Not only did Joe Ganim make a historic comeback, he did so knocking off an incumbent in a primary, a first in city mayoral elections. So swami nation, what's on the election horizon for the 2016 presidential cycle?

The Connecticut legislature is up for reelection so that means the city's eight-member delegation will face voters on the heels of a new-look city administration and potential Democratic Town Committee primaries in March. Yes, get ready for some winter primaries for control of the party. The 90-member town committee comprises the party regulars who endorse candidates for public office and choose a chairman. So Democratic Town Chair Mario Testa will celebrate Christmas pounding his restaurant veal by examining districts for friends, enemies and in between. Mario keeps score. But he's not so hardheaded he's beyond making peace. Bill Finch showed Mario no respect. Mario took care of business his own way. Finch, through most of his own doing, is looking for a new job.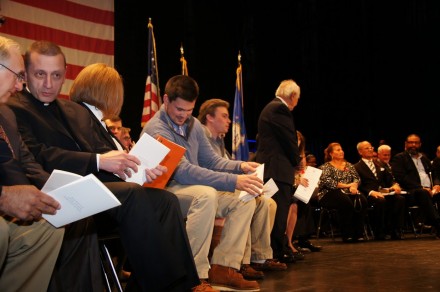 The two state senators representing Bridgeport, Marilyn Moore and Ed Gomes, are up for reelection. Moore knocked off Anthony Musto in a 2014 primary in a city-suburban district that includes all of Trumbull, part of Monroe and northern and western portions of Bridgeport. After losing his senate seat to Andres Ayala in a 2012 primary, Gomes recaptured the office early this year in a special election after Governor Dan Malloy appointed Ayala commissioner of the state Department of Motor Vehicles, defeating former city councilor Ricky DeJesus and former school board member Ken Moales. Gomes represents about two-thirds of the city and a portion of Stratford.
Both Moore and Gomes supported Mary-Jane Foster for mayor but as is so often the case with pols, could not transfer their voter bases to Foster in either the primary, where she ran a distant third, or the general election where she placed a distant second behind Ganim.
The city's six State House members, Jack Hennessy, Steve Stafstrom, Ezequiel Santiago, Andre Baker, Charlie Stallworth and Chris Rosario are also up for reelection. Stallworth, an early Ganim appointee, and Santiago supported Ganim in the general election. Hennessy, Stafstrom and Rosario supported Foster. Baker ducked, or at least gave that appearance.
Lurking for possibly another run for the legislature is Ernie Newton who finished a close second for state senate in the Gomes-Ayala 2012 matchup, then lost to Baker in an August primary last year. Newton has appealed his conviction and six-month sentence for violating state campaign finance laws related to the 2012 primary. "Don't count me out," he says.
Ganim so soon in his mayoralty will not get in the middle of political skirmishes involving the legislative delegation. Shortly after his election Ganim said it's no more us versus them and organized a meeting of the delegation in an effort to build relationships. He'll want them working as a unit to preserve and bring home goodies for the city in both the upcoming special session to address the state budget and then legislative session that starts in February. Ganim is getting his arms around the election-year budget he inherited from Finch in anticipation of building his first budget he will submit to the City Council in April.
What happens in Hartford always impacts the local budget in Bridgeport, and Ganim's first budget could be a headache with the revaluation of city property scheduled to kick in.
During this holiday season, a whole bunch of rum will be poured into eggnog in tribute, anticipation and speculation of the next round of elections just around the corner.