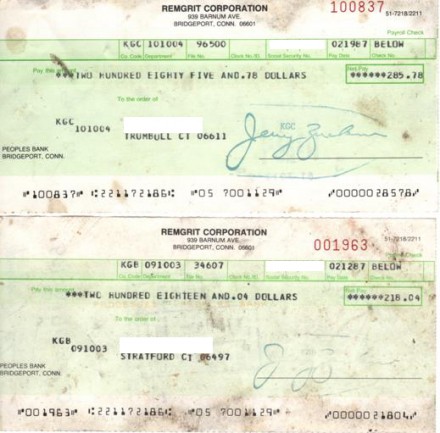 Payroll checks from 1987. Ratty floors and stairs. Leftover equipment. A mountain of a mess.
An OIB reader, who requested anonymity for sharing images, gained access to the inside of the old Remington Arms building on Barnum Avenue shortly after the latest fire that triggered the city into condemnation action. It's ugly in there, and certainly not an inviting place for city firefighters to bring raging blazes under control.

We have removed the names and social security numbers from the canceled payroll checks from 1987. The OIB reader's discovery raises questions about the personal information left behind of former RemGrit Corporation employees. Remington sold its Abrasive Products business and the Barnum Avenue site in Bridgeport to RemGrit Corporation in 1986, according to Remington's corporate history. In recent years the vacated site has been controlled by a limited liability company led by city developer Sal DiNardo who could not reach a tax deal with the city in exchange for demolishing the site.
Portions of the former East Side manufacturing plant are coming down, following the latest fire, per emergency order of the city, but it will cost millions to demolish and clear the entire complex for land remediation, depending on a future usage.
What of value can be pulled from the multiple-building complex? Hey, who's cashing in on all the steel?
A View From Inside Buildings Not Yet Demolished