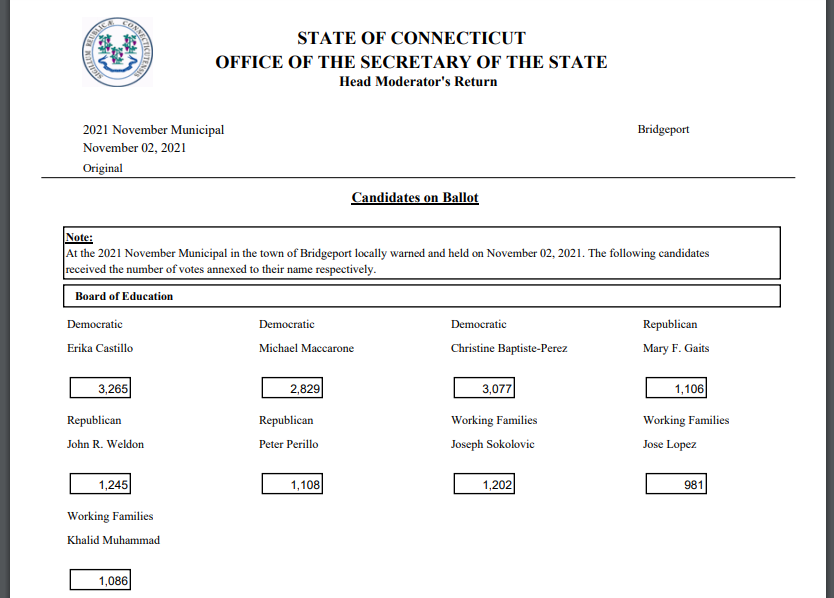 Just think, they have four more years together.
Republican Board of Education Chair John Weldon and incumbent Joe Sokolovic have captured the two remaining minority-party slots on the school board, according to the head moderator's report.
Sokolovic, a critic of Weldon's handling of school board issues, ran on the Working Families Party line. Elections officials finalized the count of absentee ballots on Wednesday and according to Joe-So he received a boost from the AB work of City Councilwoman Maria Pereira, former school board member.
From Joe-So:
"I would like to thank my family for their support, my recently deceased mom, brother and brother in-law for watching out for me from above while I campaigned as I mourned their loss. I would like to further thank the WFP and other groups that endorsed me, my donors and I'd like to give a special shout out to Maria Pereira who brought me a total of 401 votes in the 138th District. We don't always see eye to eye but she's the hardest working campaigner in the city.
Sokolovic came up short in the Republican primary for school board but the second bite from the WFP lands him another four-year term.
As for Pereira, her ultimate goal was knocking out Weldon. Weldon's reelection is a loss for Pereira.
From Weldon:
I congratulate Erika, Christine, Michael and Joe on their respective electoral victories for the Bridgeport Board of Education. I am looking forward to working with them, and the other current Board members, as we move forward into the new term.
Come December the Board of Education will feature three newcomer Democrats, Erika Castillo, Michael Maccarone and Christine Baptiste-Perez.
The citywide turnout on Tuesday was woefully short of 10 percent in the off-cycle election. The next municipal election in 2023 is for the big prize–mayor.
See moderator's report HeadModeratorsReturn-11022021 – 2021 November Municipal