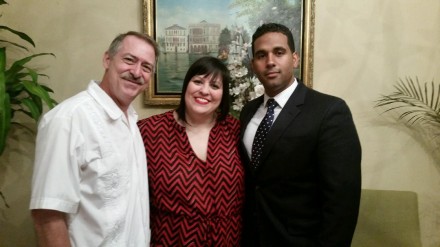 Former school board member Maria Pereira, attorney Dennis Bradley and Greenwich music teacher Ben Walker announced Friday night at a fundraiser for Joe Ganim they will be Democratic candidates for the Board of Education.

The three candidates sent a joint letter a few days ago to 10 Democratic district leaders as a first step in seeking support from the 90-member Democratic Town Committee that will make candidate endorsements July 21. They are supporting the mayoral comeback bid of Joe Ganim whose campaign conducted a fundraiser Friday night at O'Manel Restaurant on Main Street with roughly 200 people in attendance.
Pereira served one four-year term on the school board from 2009-2013. She was on the board in 2011 when the Board of Education voted to dissolve itself in favor of a state takeover of city schools that was overturned by the Connecticut Supreme Court. Pereira opposed the takeover. She's an unwavering critic of charter schools that she says siphons needed funds from traditional school districts. She has continued to attend board meetings regularly, staying active in education issues.
Last August, Bradley finished second in a Democratic primary to party-endorsed Chris Rosario who defeated incumbent Christina Ayala in Connecticut's 128th State House District.
Walker has emerged as a city education advocate. Last November he applied for the vacant school board slot following the resignation of John Bagley. The school board chose charter school advocate Kadisha Coates. Walker's wife is a city school teacher.
In their joint letter to district leaders they wrote, "We are completely committed to working together to do what is in the best interest of the Bridgeport Public School students whose education, and future prospects and success, would be entrusted to us. We passionately believe that providing our students with a proper education is a key component to the revitalization of Bridgeport. An adequate investment in our children's education would reduce our crime rates, incarceration rates, addiction rates, dropout rates, unemployment rates, and reduce the need for public assistance. A vibrant public school system is critical to attracting residents and businesses that can provide a living wage as well as increasing real estate values."
They also shared in the letter bio information:
Pereira
I was born and raised in Bridgeport, and I am currently a resident of the 138th. As a graduate of the Bridgeport Public Schools, I have an absolute passion for true public education and our 22,000 students that attend schools in the most underfunded school district in Connecticut. I have attended 95% of the Regular BBOE meeting since 2009. As a former Bridgeport Board of Education member, I have a full understanding of the inner workings of the BOE, its policies and CT state statutes governing education. I have also developed relationships with a variety of legislators in Hartford as I repeatedly traveled to Hartford during the most recent legislative session to testify before the Education Committee and lobby legislators to adequately fund our true public schools.

Since 2009, I have been a fierce advocate for not only my child, but for all our true public school children in which over 40% live in poverty. I possess an extensive level of knowledge regarding local, state and national education initiatives and policies. I have complete faith in the abilities of our students, and both the commitment of their families and our educators, and I will do everything in my power to support them in any way possible.
Bradley
I am currently a practicing attorney in Bridgeport, residing in the 136th district; and am also a member of my Democratic Town Committee. I have been regularly attending Bridgeport Board of Education meeting since January 2015. I also traveled to Hartford several times during our most recent legislative session to testify before the Education Committee and speak with legislators regarding the resources and funding our Bridgeport Public School students so richly deserve.

When I look at so many of our urban students I often see myself as a child. Education was the platform with which I was able to empower myself professionally and become a leader in the community. In turn, I would like to continue fighting for the support, programming, and services that our students so desperately need. I am confident that our Bridgeport Public Schools can produce attorneys, doctors, educators, entrepreneurs, congressmen, senators, mayors, and even a future governor. I want to give them the opportunity to do so.
Walker
I am a 35-year educator, teaching Band in Greenwich High School. My wife is also a teacher that has worked for the Bridgeport Public Schools for over 25 years. We currently live in the 135th District in the Lake Forrest community.

I have been regularly attending Bridgeport Board of Education meetings since November 2014, and truly believe I am able to offer expertise in the area of instruction, professional development, and the importance of the arts in the Bridgeport Public Schools.

As a teacher in Greenwich, I am able to see firsthand the disparity between the "haves" and the "have nots." I want to fight for the 22,000 students in the Bridgeport Public Schools that deserve an education equivalent to what our wealthy suburban neighbors receive. Our children deserve no less.