An advocacy group website www.residentsforabetterbridgeport.com is complementing Mayor Bill Finch's public outreach urging electors to vote yes on the Nov. 6 charter question that if approved would empower him to appoint members to the Board of Education. The website features the direct mail pieces hitting boxes the past few days, including residents highlighting education improvements made the past year.

The message of this campaign doesn't specifically point out a yes vote means the mayor appoints. The central theme instead focuses on school improvement that requires a yes vote to maintain the progress. One statement declares: "If you believe quality education is a civil right, VOTE YES."
The charter question below:
"Shall the City of Bridgeport approve and adopt the Charter changes as recommended by the Charter Revision Commission and approved by the City Council, including education governance reforms."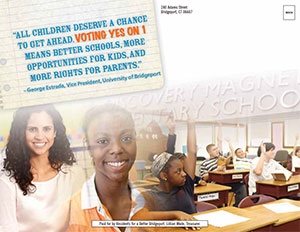 University of Bridgeport Vice President George Estrada, who served on the Charter Revision Commission that submitted recommendations to the City Council for ballot approval, urges a yes vote in one of the featured mailers.
The website also declares:
We're making progress for our kids. YOUR YES VOTE ON 1 can help us to keep:

Offering ways for students to take free college courses at four local colleges, earning credit for both high school and college

Building new schools like the ones being built at Roosevelt, Longfellow, and Harding, and completing Bridgeport's first new high school in 50 years

Making extensive renovations at Black Rock School and Central High School

Creating new and unprecedented ways to bring parents into the schools and to get them more engaged and involved in their children's education
The site provides links to the charter question, an explanation of what it means as well as a link to education "Record of Progress."
The advocacy committee Residents For A Better Bridgeport is financed largely by city business interests in support of a mayoral-appointed school board. Lillian Wade, political activist and president of the East End Neighborhood Revitalization Zone, is the treasurer.