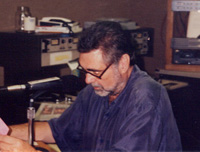 The Weird Beard Russ Knight was a fixture for many years when Bridgeport was a talk-show city. Knight, given name Russell Moore, worked for WDJZ in the early 1980s and also hosted a talker on WICC. Knight had special pipes that could be anything he wanted: shock jock, soothing voice of reason or voiceover specialist. He did it all in his long radio career that took him to Dallas, Cleveland and New York. As the morning man on WDJZ he did not lack for observations about Bridgeport government and politics. If mayors booked for his show were late calling in, The Weird Beard wouldn't hesitate to bark on the air, "Where's the damn mayor!" The Beard represents an era when there was no shortage of ways residents could voice concerns. Obit below:

Russell Lee Moore, better known in the broadcast industry as Russ "The Weird Beard" Knight, passed away on Friday, October 12, 2012. Russell was a radio personality at many stations throughout the United States, but his most memorable stints were as The Weird Beard on KLIF in Dallas and KILT in Houston, Texas. At KLIF, he was the self-proclaimed "savior of Dallas radio;" at KILT, he introduced The Beatles to Houston in 1965. He later went on to program the "Make Believe Ballroom" with William B. Williams at WNEW in New York City, and was inducted into the Texas Radio Hall of Fame in 2003.

One of his greatest interviews was with the late crooner Perry Como, who always wanted to trim his beard, as Mr. Como had been a barber before starting his musical career. While on the radio, his wit, humor and compassion enhanced any city or town he worked in. He loved New York City and music, especially The Bee Gees, and disco-era music always got him up and dancing. Russell loved the Yankees and the Dallas Cowboys. His greatest joys were his sons and grandchildren, and his two cats, Jasper and Pavarotti. He loved animals, and his friends referred to him as St. Francis of Assisi.

He is survived by his beloved wife, Roseann; his sons Stephen and Richard, from his previous marriage to the former JoBeth Garrett of Corpus Christi, Texas; his stepsons, Jason and Brandon; and his numerous grandchildren. Funeral services will take place on Tuesday, October 16, 2012 at 9:30 a.m. in the Abriola Parkview Funeral Home, 419 White Plains Road, Trumbull, and at 10:30 a.m. in St. Andrew Church, Bridgeport for a Mass of Christian Burial. Interment will be private at the convenience of the family. Relatives and friends may call on Monday from 4-8 p.m. at the funeral home. In lieu of flowers, memorial contributions may be made to the Center for Domestic Violence, 158 Main Street, Ansonia, CT 06401. To light a virtual candle, visit us at www.abriola.com.