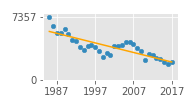 Thirty years ago some city neighborhoods, particularly the East Side, South End and West End experienced zones of horrific violence fueled by crack cocaine drug wars totaling several years of 50-60 murders annually. For the most part, with a few outlier years, violent crime has dropped dramatically from 25-30 years ago. Governor Dan Malloy touted lower state crime figures the other day in a report released by the state's criminal justice policy and planning office backed by data released Monday from the FBI. The Connecticut Mirror combined the statistics in an examination of long-term crime trends by municipality. See more on that here.

Bridgeport police officials point out that crime overall is down with an occasional spike in violent crime such as 2017. Last year at this time the city had roughly three times as many murders, compared to six homicides so far this year.
Touting contemporary crime statistics is tricky stuff for politicians, especially expressing recent years vulnerable to unpredictable spikes. In 2015, an election year, then-Mayor Bill Finch often trumpeted lower crime rates, but did so defensively on the heels of active incidents of violence. The Finch mayoral years saw a drop also in police manpower exacerbated by retirements, something Mayor Joe Ganim has rectified in several police hiring classes that has advanced uniformed numbers to more than 400. It's an ongoing battle for the city to keep pace with retirements.
The Mirror's report charts 10 crime categories in Bridgeport including murder, arson, motor vehicle theft, assault, robbery and burglary. See charts here.
Malloy's criminal justice policy has centered on "second chances rather than permanent punishment and stigma." This includes modernizing state drug laws, reforming the bail system, promoting job training and advancing economic opportunities for ex offenders.