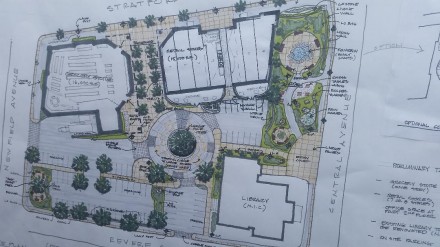 Could it finally be the East End's time? A local developer with deep roots in the East End joined Mayor Joe Ganim and other officials on Wednesday to announce plans for a 30,000-square foot buildout that will include a grocery store, Optimus Health Care facility, a pharmacy, restaurants, hair salon and laundromat, all adjacent to a new library for a food-desert neighborhood hungry for jobs, construction and amenities. Anthony Stewart, the managing partner of city-based Ashlar Construction has joined forces with Bridgeport Landing Development, operators of the Steelpointe Harbor redevelopment area, as equity partners for the $7 million investment.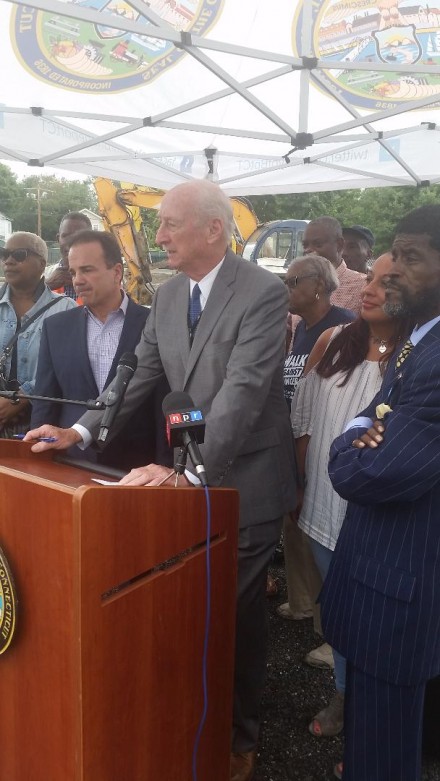 "We're from here and our heart is here," Stewart told the gathering of media representatives and local officials at the long-dormant Civic Block Redevelopment area bounded by Stratford Avenue, Newfield Avenue, Revere Street and Central Avenue. For neighborhood residents a grocery story is a long, exhaustive wait in this food desert. Stewart, whose mother operated a beautician shop along the strip decades ago, has signed up Gala Foods Supermarkets that has two locations in the city on East Main Street and Fairfield Avenue to host the 16,000-square-foot market.
Mayor Joe Ganim announced at the ceremony that within a few weeks demolition will commence of vacant buildings that once housed a post office on the site. Following demolition of buildings Stewart said he anticipates construction to commence in the spring of 2019 with completion in about 10 months. He said putting the development pieces together and negotiating tenant commitments has been years in the making.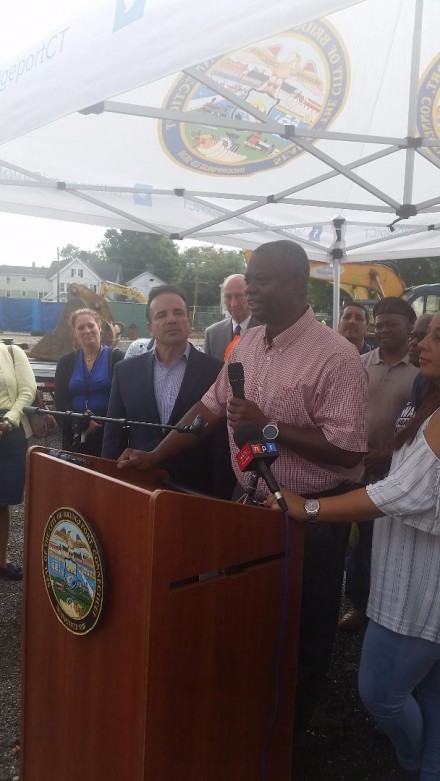 For City Councilman Ernie Newton, who describes the development as a dream come true, it was an emotional day. "I watched a community that was vibrant die. We're gonna light this avenue up."
Newton, his council partner Eneida Martinez and State Rep. Andre Baker have been pushing for this type of development for years. Baker is working with the Connecticut Department of Transportation to increase access points by returning Stratford and Connecticut Avenues to two-way corridors, a process that is underway.
Stewart is also involved in the construction of the $6 million library adjacent to the planned development.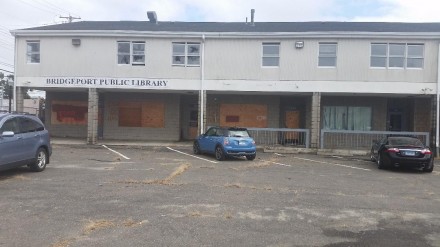 Several blocks away the Christoph-family-led Bridgeport Landing Development is going vertical with Steelpointe Harbor plans visible from I-95 that includes a 200-slip marina, harbor walk and Boca Mediterranean Oyster Bar across the street from anchor tenant Bass Pro Shops. They are equity partners in this development.
Ganim announced more East End development is on the horizon with plans for a housing component across the street from the commercial site. East End Revitalization Zone President Keith Williams has been among the neighborhood activists shepherding this project. Standing next to Ganim at the announcement he gave the mayor a gentle verbal jab urging a fast track for completion. "If it don't get done, we know who to see," Williams said with a smile, looking at Ganim who nodded in approval.
Ganim has a lot of motivation to see this through with his reelection for mayor coming in 2019. A project under construction for the East End that delivered big-time votes for him in 2015 is what he'll need for another strong voter performance.