When college student creativity is available, you embrace it. Mayor Joe Ganim, unlike his predecessor Bill Finch, is leveraging the minds of University of Bridgeport students in the cause of marketing the city. Professor Susan Katz, who designed the OIB website, challenged her students in the Publicity Methods class to create a video, brochure and marketing strategy for Connecticut's largest city. A city must always market its assets. The focus for this project is the city's Downtown. See video above.

Ganim, Economic Development Director Tom Gill and other city officials attended the student-created project Tuesday night at UB. University President Neil Salonen, who served as co-chair of Ganim's transition team, was also on hand to view the presentation. Ganim is an alumnus of the university's school of law before it relocated to Quinnipiac University in Hamden about 25 years ago. Katz also served as a direct-mail strategist for Ganim's comeback win last year.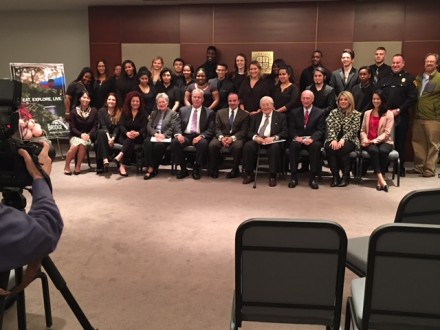 The students crafted a campaign that has many applications for city usage: website, social media, marketing retention, business attraction at no cost to the city. The video focuses on The Bridge, the city's Downtown, that highlights business staples such as Ralph & Rich's Restaurant as well as young creative minds that recently set up shop. Ironically the video features some projects started or advanced under Finch who once worked at the university but ignored it during his eight years as mayor. Finch was defeated by Ganim in a 2015 Democratic primary.