More than a year ago Mohegan Sun made a big P/R splash, announcing an exclusive three-year partnership agreement with the city-owned Webster Bank Arena involving concerts, sporting events and sponsorships. It was a spin to gain a footprint in the city amidst a battle between Connecticut's two tribal nations and MGM over a proposal for a commercial gaming destination in Bridgeport, a face-off that continues in the legislative session.
What's happened since that announcement promise by Mohegan Sun? Crickets.
In a reality check Governor Ned Lamont's communications director Tweeted this: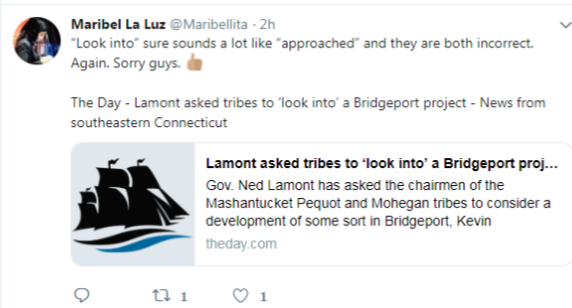 So what's the Tribes' angle?
From News 8:
In an exclusive interview, the tribal chairman of the Mashantucket Pequot tribe, Rodney Butler and the tribal chairman of the Mohegan tribe, Kevin Brown tell News 8 that Governor Lamont has asked them to look into developing a casino/resort on the Bridgeport waterfront. Something they say they have always had interest in.

"Yes, the Governor did actually reach out to us and say; 'hey, you what? we think there's an opportunity there and we think that we'd like to work with our current partners and would you be interested?' And we said yes," says Chairman Butler. Chairman Brown adding, "We are pleased to know that the Governor sees the value in the tribes being part of a discussion to do that development."
Full report here.
More on this from CT Post here.