UPDATE: Video features OIB commenter Steven Auerbach in verbal exchange with Mary McBride Lee.
Charging Mayor Bill Finch meddled politically in a tribute to honor Rev. Mary McBride Lee's march at Selma in conjunction with the 50th anniversary of the Voting Rights Act, the city councilor and supporters protested Tuesday in front of the Margaret Morton Government Center Downtown. Lee issued a letter to the mayor whose Chief of Staff Adam Wood responded to Lee citing a misunderstanding and thanking her "for all that you've done for the people of our great city and the entire nation."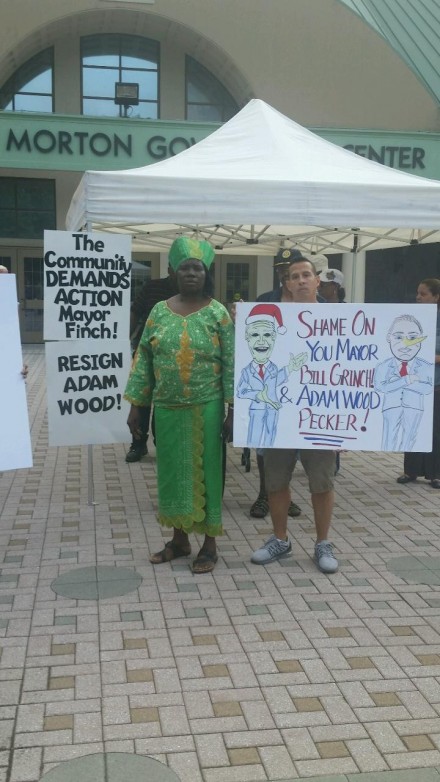 Connecticut Secretary of the State Denise Merrill had apparently invited Lee, a City Council supporter of former Mayor Joe Ganim, to be recognized last week at the East End Tabernacle Church where State Rep. Charlie Stallworth, also a Ganim supporter, serves as pastor. Merrill is the state's chief elections officer.
Lee claims Merrill was pressured into cancelling her participation at the church. Lee was recognized at an event last week at the Holiday Inn by Merrill. Both Ganim and Finch also attended the recognition ceremony of Lee at Stallworth's church.
Lee wrote this letter to Finch:
Dear Mayor Finch,

I am writing to you today under some very unfortunate circumstances. As you are aware, I was humbly honored on August 6th as part of the 50th anniversary of the signing of the Voting Rights Act.

As someone who personally marched on that bloody day in Selma, Alabama, I am deeply troubled by how this tragic day was politicized by you and members of your administration, in particular your Chief of Staff Adam Wood.

The Secretary of State had organized an event at East End Tabernacle, in which you were also invited. Once your administration was notified of the event, a member of your administration, your Chief of Staff Adam Wood, contacted the Secretary of State to request the event be cancelled simply because both Charles Stallworth and I have exercised our right to support a mayoral candidate other than yourself.

Although you were quoted as saying you had no knowledge of any attempt by your administration to interfere with the scheduled service in the CT Post the following day, the evidence obtained by the CT Post clearly serves to discredit your assertions. In fact, Mr. Wood clearly communicated with Mr. Harris from the Secretary of State's office and specifically requested the event be cancelled.

The conduct of your Chief of Staff, Adam Wood was not only appalling and insulting to me and the Reverend Charles Stallworth, it was insulting to all the heroic people that marched at Selma on that day 50 years ago. In addition, your administration has insulted the entire minority community in the City of Bridgeport.

Therefore, I am asking for the resignation and/or the termination of your Chief of Staff Adam Wood, and those of any additional members of your administration that participated in this purely political and disrespectful act.

I look forward to a formal response from you within the next twenty-four hours regarding your plan of action as the elected Mayor of our great city.
Mayor Finch's Chief of Staff Adam Wood issued this letter to Lee:
Dear Councilwoman McBride Lee,

I hope this note finds you well. Per our earlier conversation–and your gracious acceptance of my apology for what was clearly an unfortunate misunderstanding–I find the letter that was sent to Mayor Finch today to be disheartening.

As previously stated, during a conversation with the Secretary of State's Office last week, I was asked about an event being planned at East End Tabernacle and whether or not it was of a political nature.

After several discussions with community members leading up to the event, it was the general consensus that its intentions were political.

As a friend to many in the Secretary of State's Office–and since I was asked to give advice on this matter–that's what I did.

Since the Secretary of State is the chief elections officer for the state, and avoids political events as a matter of practice, that it might not be in her best interest to attend said event.

However, since Mayor Finch was invited in his official capacity, he planned on attending the event all along–and unequivocally celebrated your heroism and bravery by honoring you with an official citation.

Now, in regards to the nature of said event, I apologize for the misunderstanding and by no means intended to take away from your bravery and heroism.

I cannot thank you enough for all that you've done for the people of our great city and the entire nation.

And, I cannot thank all of those who marched for freedom in Selma on that fateful day 50 years ago enough.

That's why I was so honored to lead the effort nine years ago to bring Congressman John Lewis–another hero who marched at Selma alongside you and others–to our great city to speak in the East End about his experiences.

Over the past eight years, I've been fortunate to work alongside you and many others to try and help Mayor Finch bring our city together.

As we both know, public service isn't an easy line of work. Thankfully, there are people such as yourself, Mayor Finch, and others who are willing to work hard to make Bridgeport better every single day.

I hope our work together over the past several years can overcome a misunderstanding such as this.

Because in order to continue making Bridgeport better every day, we need to continue working together.

Thanks, Councilwoman McBride. I look forward to speaking with you again soon, and thanks again for all you've done–and continue to do–for Bridgeport.

Best Wishes,

Adam Wood

P.S. I'm attaching Mayor Finch's proclamation that he gave to you last Thursday at the event. My hope is that you'll be reminded of how much Mayor Finch supports you for the great things you do for our community.