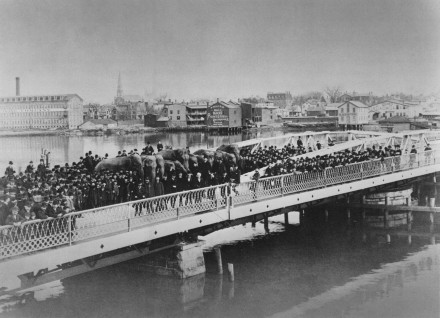 Just about everything and everyone has a shelf life. Even the circus started by P.T. Barnum–Bridgeport mayor, philanthropist, business impresario–the single greatest contributor to Bridgeport's history. Kenneth Feld, chief executive of the company that produces Ringling Bros. and Barnum & Bailey announced it will close in May, writing on the company website "ticket sales have been declining but following the transition of elephants off the road, we saw an even more dramatic drop."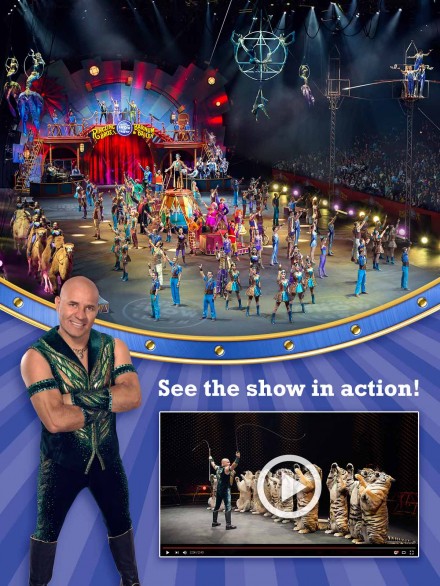 "What's interesting about the circus is it was Barnum's retirement project," Kathy Maher, director of Bridgeport's Barnum Museum, told the CT Post. "It recreated his American Museum into a new form. He had already had an extraordinary life."
Excerpt from my book Only In Bridgeport.
Barnum's circus career took off in 1870 with the formation of his immense circus. "The Greatest Show on Earth" consisted of a museum, menagerie and eventually a grand three-ring circus that required 500 men, numerous horses and a 70-car freight train to transport it through the country. Bridgeport became the circus capital of the world when Barnum selected it as the winter headquarters–the site was a 10-acre lot in the West End along Wordin Avenue, Norman Street and Railroad Avenue. Daily, downtown Bridgeport was treated to visits from the most famous circus characters, including William F. "Buffalo Bill: Cody.
On November 20, 1887, an evening fire destroyed the winter headquarters, killing nearly all the animals except for several elephants and a lion, which escaped into the streets and nearby barns. Barnum's "sacred" white elephant was killed in the blaze. Barnum, the eternal optimist, immediately began erecting another winter headquarters.
"I am not in show business alone to make money. I feel it my mission, as long as I live, to provide clean, moral, and healthful recreation for the public to which I have so long catered," Barnum explained.
Even in the last years of his life Barnum never lost his enthusiasm for a masterful publicity stunt. One of his last Bridgeport gimmicks took place in 1888. The Stratford Avenue Bridge was replaced by a new iron structure and Barnum assured everyone of its safety by parading twelve elephants weighing 36 tons onto the bridge.
Throughout his life, Barnum was cursed by fires; his Iranistan home, New York museum (twice burned) and winter headquarters all were hit by fire. In 1880 Barnum formed a partnership with circus associate James A. Bailey, who carried on the circus after Barnum's death. The Barnum & Bailey Circus was sold to the Ringling Brothers in 1907, and the new owners moved the headquarters to Sarasota Florida, in 1927.
In the fall of 1890, a stroke confined Barnum to his home. In his final letter to his partner James Bailey, the Greatest Showman on Earth reflected on his career:
Never cater to the baser instincts of humanity, strive as I have always done to elevate the moral tone of amusements, and always remember that the children have ever been our best patrons. I would rather hear the pleased laugh of a child over some feature of my exhibition than receive as I did the flattering compliments of the Prince of Wales. I am prouder of my title 'The Children's Friend' than if I were to be called 'The King of the World.'
I regret exceedingly that my bodily weakness prevents my being present at the exhibition in New York, for I veritably believe that if I could again see the rows of bright-faced children at our matinees and observe their eyes grow round with wonder or hear their hearty laughter, it would do me more good than all the medicine in the world.
Barnum died five days later on April 7, 1891. The public and press reacted with intense sorrow. "The death of Barnum ends a unique career, and no singular combination of traits and talents survives to compete with his memory," wrote the New York Tribune. "It is probably safe to say that not more than half a dozen persons now living, including reigning sovereigns, are known by name to so many millions of their fellow beings as was Barnum."
"The death of P.T. Barnum may not 'eclipse the gaiety of nations,' but it takes out of the world one who has added more to this gaiety than perhaps any other man who has ever lived," noted the New York World.
"Bridgeport has long since outgrown the influence of any one man, but still so far as civilization has penetrated, Bridgeport has been associated with his name and is known as the city in which he made his home," wrote the Bridgeport Standard.
Bridgeport has indeed outgrown the influence of any one man, but no man has had more influence on Bridgeport than P.T. Barnum, a man who cherished friendships with Abraham Lincoln and Mark Twain, a man so famous that he wrote of receiving letters from foreign countries addressed simply "P.T. Barnum, America" and a man who made Bridgeport a better place to live.